April 01, 2016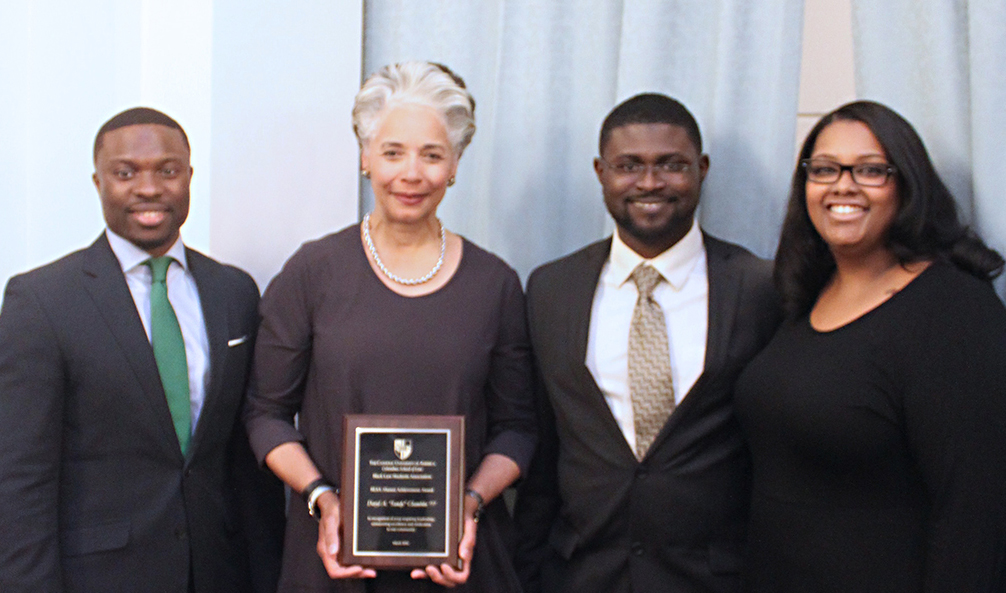 (From L to R: Arthur Osueke, Daryl A. "Sandy" Chamblee, Marques Banks, and Shanee Scott)
On the evening of March 31, 2016, students, alumni, faculty, staff, and guests gathered at the Columbus School of Law for the 22nd annual Black Law Students Association (BLSA) Alumni-Student Reception honoring Daryl A. "Sandy" Chamblee '77, former chief diversity partner at Steptoe & Johnson LLP.
The audience was welcomed with opening remarks from CUA Law Dean and Knights of Columbus Professor of Law, Daniel F. Attridge. "No one could symbolize the significance of diversity and inclusion the way Sandy Chamblee has in her professional career," Dean Attridge said.
Evening Vice President of BLSA, Marques Banks (3E), also offered remarks and thanked alumni for their support. "When you think of BLSA you naturally think of law students, but it is so much more than that," Banks said. "It is about the alumni that came here and that we are able to honor tonight."
Black History Month Chair of BLSA, Shanee Scott (2L) introduced Chamblee. Before her recent retirement, Scott noted that Chamblee was a partner in Steptoe & Johnson's LLP's Washington office, a member of the Litigation Department, practicing in the areas of toxic torts and natural resources. She was also a member of the firm's Settlement Advocacy practice focused on creative early dispute resolution. Chamblee has over 30 years of experience as a lawyer, senior advisor, and executive in policy analysis and development, conflict resolution, strategic planning, and complex, multiparty litigation in the toxic tort, insurance, energy and natural recourses, biotechnology, and healthcare contexts.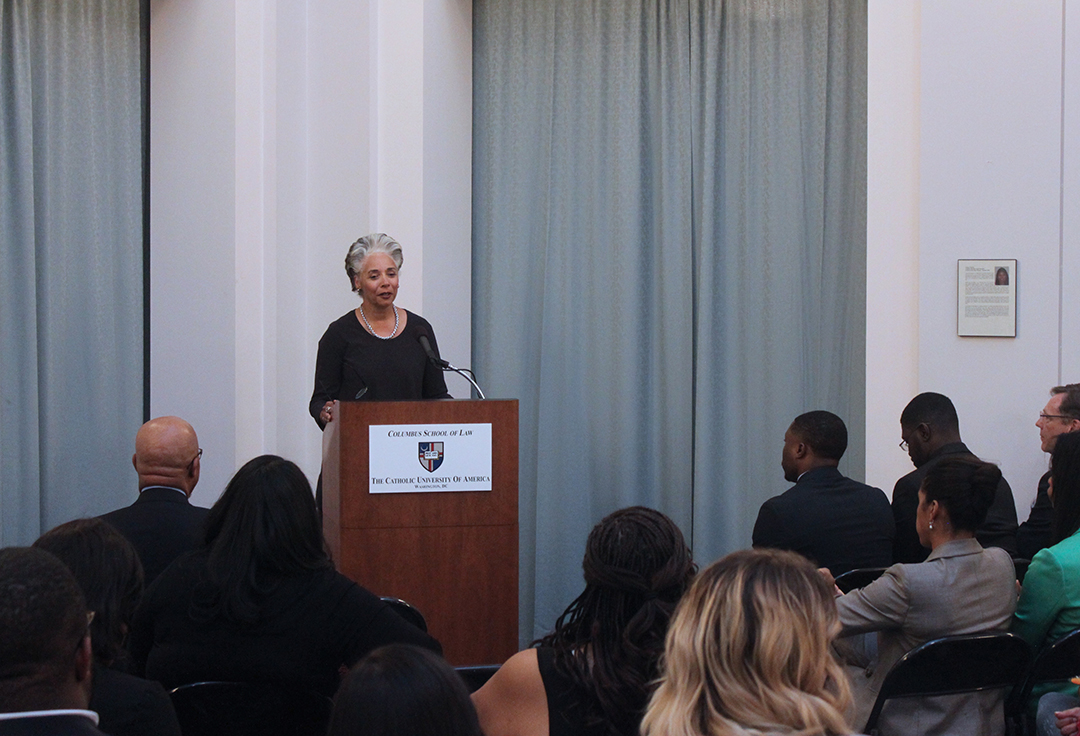 Chamblee began her address by thanking CUA Law. "I think that CUA Law really prepared me well for my career," she said. "I have to give the school credit for a lot of my success."
During her address, Chamblee spoke about the importance of creating and maintaining a diverse and inclusive environment throughout various institutions. "You cannot use the word diversity without inclusion and have any real meaning. You have to use the two together," said Chamblee.
She explained that diversity deals with numbers but inclusion goes to the heart of whether minorities are included in the lifeblood of an organization. "Having an inclusive environment is critical to the success of entities and critical to the people in those entities," she said. "Entities that are not inclusive are not as successful, not as creative, and not as productive as they could be."
"Unconscious bias is frequently the result of internalizing and not questioning stereotypes that purvey our society," Chamblee warned. In order to combat this she said we must recognize that unconscious biases exist and raise them to a conscious level. This can be done through education and the participation of institutional leaders. Individuals must educate themselves, find commonalties with people who are different, and know which battles are worth fighting.
Chamblee said dealing with these issues takes "courage, grit, and determination." She closed her speech by calling on the audience to "lift as they rise" and to look out for one another throughout their careers.
Arthur Osueke (2L), president of BLSA provided closing remarks and stressed that Chamblee's "efforts have touched black lawyers and law students in ways that [she] could have never imagined…" After the program, students had a chance to establish professional connections with other alumni in attendance at a reception in the Keelty Atrium.