April 01, 2016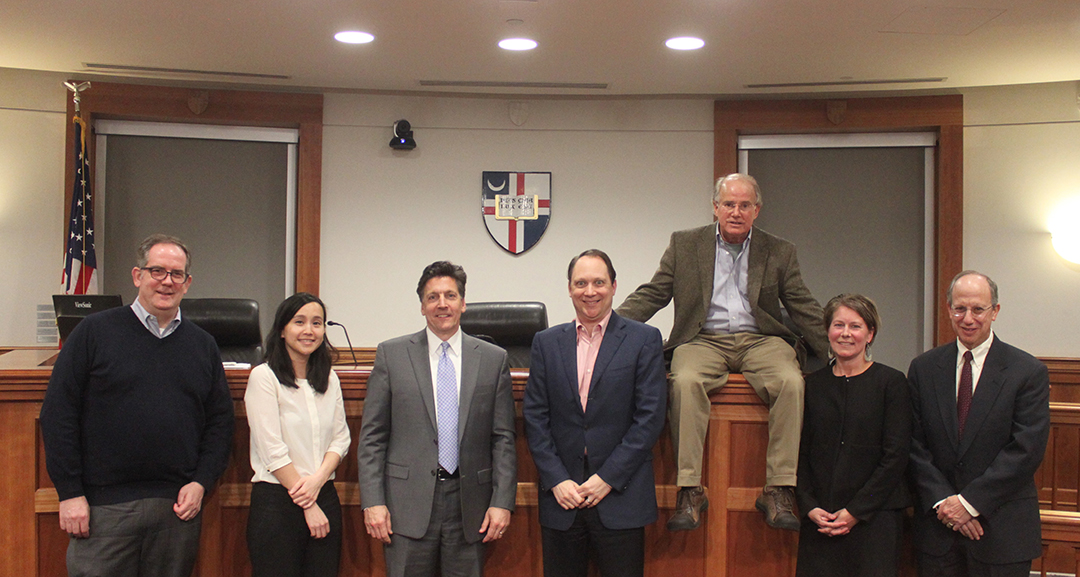 (From L To R: Theodore Lazo, Ivy Huo Keller, Michael Shaw, Andrew Southerling, Professor David Lipton, Nicole H. Sprinzen, and Jeff Puretz)
Six alumni of Catholic University's Securities Law Program returned on March 30 to participate in a career discussion panel for current students at the Columbus School of Law. The panelists included Ivy Huo Keller '11, Securities and Exchange Commission (SEC), Theodore Lazo '94, Securities Industry and Financial Markets Association (SIFMA), Jeff Puretz '81, Dechert, LLP, Michael Shaw '93, Oyster Consulting, Andrew Southerling '94, Morgan, Lewis & Bockius, LLP, and Nicole H. Sprinzen '99, Cozen O'Conner.
The alumni on the panel had a strikingly impressive array of talents and past and present positions. One panelist was a general counsel at both the NYSE and SIFMA. Another panelist was a former Executive Vice President of FINRA and the Director of the Certified Financial Planner Board. A third panelist heads the Mutual Funds Division of a major national law firm. Those credentials just touch on the highlights of some of the backgrounds of those speaking at the forum. All of these speakers took many of the securities courses offered by the Securities Law Program while at the Law School.

The program was sponsored by the Securities Law Program and the Office of Career and Professional Development and drew a crowd of current and prospective securities program students. The panel was arranged and moderated by CUA Law Professor and director of the Securities Law Program, David Lipton.
The panelists discussed how to prepare for an interview, how to obtain an internship or summer associate position, which classes to take while in school, and offered advice on life after graduation. "My biggest recommendation or suggestion would be if you are interested in a job in the securities industry, take some classes in securities program," Keller said. "The securities certificate program is helpful and really lays a foundation."

The importance of connections was strongly emphasized. "When you are working as an attorney it is so easy to lose touch with people, and I would encourage you to find a way to stay in touch with your classmates," Shaw said. "Those contacts will help you throughout your career." Job seekers were advised to try to identify CUA Law alumni at any firm or organization at which they are applying and to make direct appeals to those individuals.
Following the panel, students were invited to a reception with alumni in the Keelty Atrium for a chance to network and engage in conversations.