March 09, 2016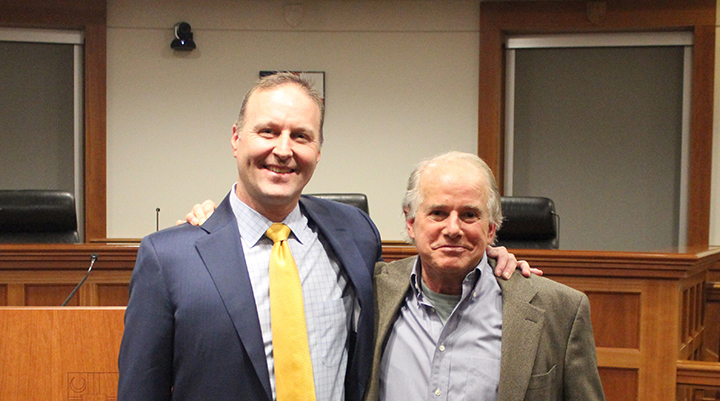 Chris Concannon '94 (L) and Professor David Lipton (R)
Chris Concannon '94 graduated from CUA Law and its Securities Law Program as a serious student with a passion for the complexity of our financial markets. He returned, 26 years later, on March 7th as the CEO of the second largest U.S. stock exchange. He came at the request of Professor David Lipton, Director of the Securities Law Program, to lecture on the mechanics of maintaining trading market operational integrity in a world of increasingly computerized markets.
Along the way, he also served as executive vice president of NASDAQ where he helped that exchange to acquire the Philadelphia and Boston Stock Exchanges. Prior to joining BATS, Chris was the chief operating office of Virtu Financial, a global electronic market maker.
Concannon explained that both SEC regulations, as well as the diminishing trading profit that can be made on electronic markets (as small as a penny per share) has necessitated that computerized electronic trading replace the person to person trading that was once the norm on our stock exchanges. Along with this expansion of computerized trading has come "market glitches" that can close down or limit trading on major exchanges. Some of these glitches are just functions of occasional mechanical failures. Some arise from sloppy operations, disruptions that have hammered both large and well known exchanges as well as brokerage firms and ultimately issuers. Both the industry and the regulatory bodies are working on insuring that trading markets avoid these problems in the future. But, Concannon cautioned that there is not a perfect solution which will prevent all errors.
Present at the lecture were two of Concannon's Law School classmates, Mark Amorosi '94, head of the Investment Management Practice at K&LGates and Chris Menconi '94, also in the Investment Management practice at Morgan Lewis. Dan Gallagher '99, former SEC Commissioner and now president of the consulting firm of Patomak Global Partner LLC also came to see his industry colleagues.
Professor Lipton said that he was proud of the achievements of the School and the Program's graduates. He continues to appreciate the efforts of our alumni in helping current graduates to find placement in the industry. After the conclusion of the event, Concannon took questions from the audience, and students were invited to a reception in the Keelty Atrium for a chance to have informal conversations and networking opportunities with the speaker and other alums in attendance.