February 26, 2016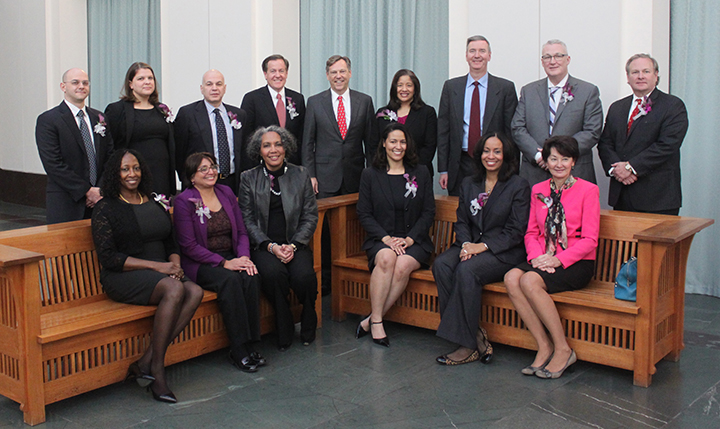 Law School Honors Recent Alumni Members of the Bench
The Columbus School of Law recognized thirty-two graduates who now serve or have served as judges, hosting a luncheon and ceremony in their honor on February 26, 2016.
The judges' names are now listed among 270 fellow graduates currently inscribed on the Judges Wall, on display along the third floor classroom corridor that was originally dedicated in 1998 as part of the Centennial Celebration of the Columbus School of Law.
Judges and their families invited for the "Celebration of the Judiciary" were welcomed by CUA Law Dean Daniel F. Attridge, and heard keynote remarks from The Honorable Joseph F. Leeson Jr., Class of 1980, who currently serves as a United States District Judge of the United States District Court for the Eastern District of Pennsylvania. Professor Veryl V. Miles '80 offered the invocation.
"When people have asked if the Columbus School of Law mattered to me, I say 'it sure did'," said Judge Leeson. "In my personal life, my faith, my career, and now in public service."
The sixteen judges in attendance were those most recently appointed to the bench. They hailed from six states: the District of Columbia, Georgia, Maryland, Hawaii, Pennsylvania and Virginia.

A total of 270 graduates of the Columbus School of Law currently serve as judges in federal, state and administrative courts.
The Judges Wall lists graduates by the year of their first judicial appointment or election. The wall was re-dedicated in March 2005 to celebrate the 10th anniversary of the building and to recognize the contributions of the law school's graduates to American jurisprudence, and again in 2011.
The following alumni were added to the Judges Wall (Names are listed under the year of appointment.):
1987
Sharman J. Monroe '82
1988
Genet McIntosh-Hopewell '82
2000
John Peter Moran '64
Jeffrey T. Smith '96
James W. Zion '69
2007
Paul M. Gamble '83
John A. Jeffery '04
2008
Tiffany Hanna Anderson '97
Molly Reynolds Fitzgerald '86
Stefan Staicovici '04
2011
Michael C. Astorino '08
Kristen Droesch '06
Meredith C. Petravick '06
2012
Patricia Howard Fitzgerald '00
Michael Geffroy '92
Kenneth J. Bossong '77
Rainey Ransom Brandt '95
Karen Holliday Mason '92
Coral Wong Pietsch '74
2013
C. Joseph Boatwright II '03
John E. McDonald, Jr. '91
Richard Allen Moore, II ' 85
Paul R. Wallace '89
2014
Gwenlynn W. D'Souza '94
Joseph F. Leeson, Jr. '80
Matthew Jeremiah Shea '93
Ann L. Wagner-Stewart '93
2015
Rick Leo '97
Patricia E. Hurt '99
Katina Self Steuart '01
Paul Peterson '13
2016
Dorothy M. Engel '00