February 18, 2016
Brendan Johns (3L) delivered the first Student Scholars Series lecture of the 2015-16 academic year on February 17th. Johns' scholarship, "A Regulatory Balancing Act: Ensuring that Fracking can Thrive in America's Future," was based on his research of the process used to extract energy resources through the process known as hydraulic fracking.
Johns pointed out that scientific studies have determined that fracking has the potential to cause adverse environmental harms, most notably, the contamination of drinking water. "The EPA has determined there are chemicals, if consumed directly, that can lead to human health impacts or jeopardize clean drinking water," he said.
To address this concern, Johns proposed legislative, regulatory, and monitoring steps by which the country could continue to benefit from the process while simultaneously limiting the environmental harms that it poses. "Congress should amend the Safe Drinking Water Act (SDWA) so that it utilizes both the states' already existent best management practices and the SDWA's strict liability," Johns said.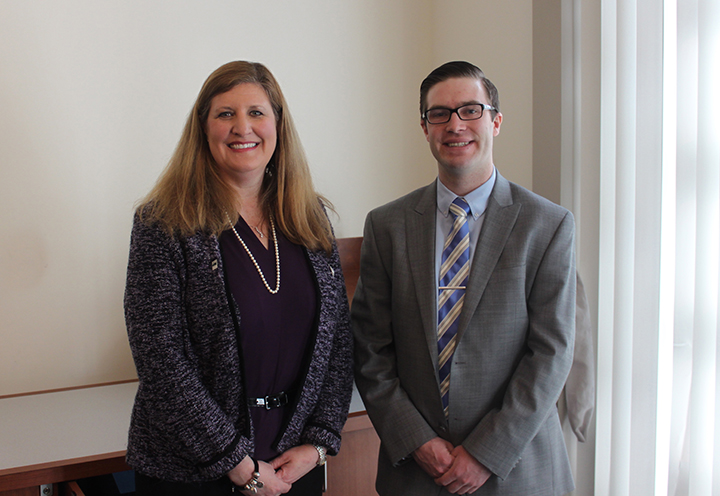 Alumna and current Executive Director and General Counsel to the Environmental Council of the States, Alex Dunn '94, served as the respondent for Johns' lecture. She said Johns' paper was "forward looking" and was practical in the sense that it looked at one particular problem, safe drinking water, instead of addressing multiple concerns.
After the lecture, Johns took questions from the audience, and students had the opportunity to engage in conversations with faculty and guests.
The Student Scholar Series was founded by CUA Law Professor Harmon in 2009. It was established in order to recognize notable legal scholarship produced by students during the academic year and to foster the practical skills associated with presenting and defending that scholarship in a professional conference-style setting.
Click here to view the lecture.