February 19, 2016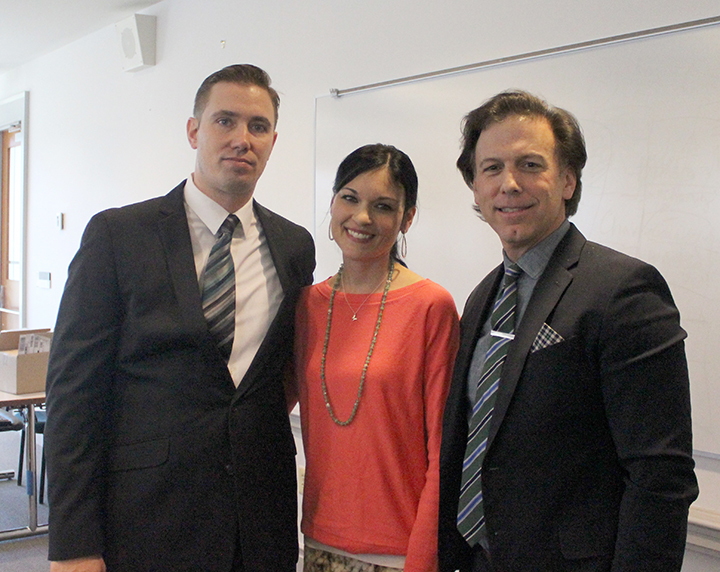 Shon Hopwood, his wife Ann Marie Hopwood (1L), and Professor A.G.Harmon
In 1999,
Shon Hopwood
stood before a federal judge and was sentenced to over twelve years in federal prison for his role in five bank robberies. As he related to an audience of students, professors, and staff members during the
Faith in Action
talk at the Columbus School of Law, the journey from that day to this one, in which he enjoys a teaching fellowship in Appellate Litigation at Georgetown, is a tale filled with no small amount of grace.
During the February 18th event, Hopwood explained how while in prison, he began to teach himself the law and began writing legal briefs for other prisoners. "Not only did I have to learn the law, I had to learn to write, and I started to figure it out. I researched for days, weeks, months," said Hopwood.
To his shock and surprise, two of the petitions were granted by the U.S. Supreme Court. With the generous help of former Solicitor General, Seth Waxman, among others, he found a purpose and calling in life he could never have imagined.
Upon his release, Shon earned a J.D. as a Gates Public Service Law Scholar from the University of Washington School of Law, and then served as a law clerk for Judge Janice Rogers Brown of the U.S. Court of Appeals for the District of Columbia Circuit. His memoir, "Law Man: My Story of Robbing Banks, Winning Supreme Court Cases and Finding Redemption," was published by Random House in 2012.
After the talk concluded, students and faculty had the opportunity to speak with Hopwood and Professor
A.G. Harmon
, who organized the event. Two students won a signed copy of Hopwood's memoir. To learn more about Hopwood click
here
.