February 08, 2016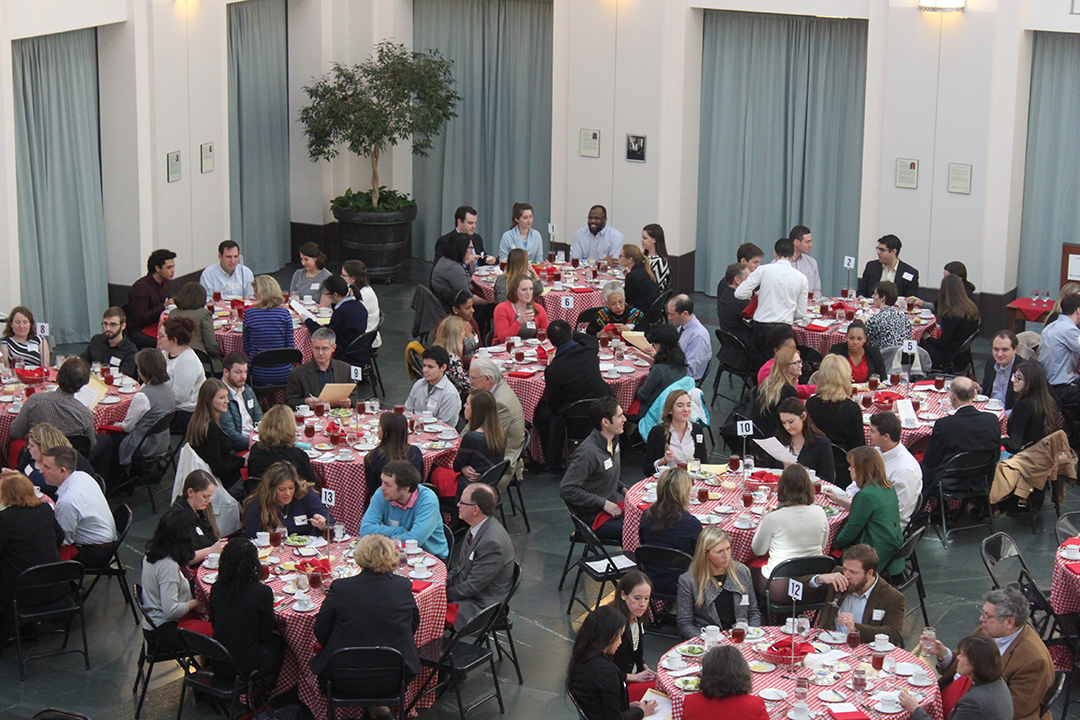 For the seventh year running, first-year law students gathered with faculty members and staff of the Columbus School of Law at an annual luncheon in the Keelty Atrium, a relaxed and informal occasion that provides an opportunity for everyone in the law school community to get to know one another better.
The group was welcomed with brief remarks and a blessing from CUA Law Dean Daniel F. Attridge, who reminded the audience that "today is another opportunity, for you as students, and for the rest of us, as faculty and staff, to personally engage with one another as members of the law school community."
"We are all connected to one another as students, as faculty, and staff with the goal of preparing you, our students, for your careers and perhaps even more importantly, with fulfilling lives," said the Dean.
During lunch, trivia questionnaires were distributed among the 14 tables, marking the start of the highlight of the yearly meal. Tables were also told to come up with a creative name.
Students, faculty, and staff were asked questions such as:
Star Wars author Drew Karpyshyn named which NFL hero "most likely to be a Jedi"? (Peyton Manning)
If you become a Supreme Court Justice, you will be spared the indignity of wearing a wig. Which Founding Father should you thank? (Thomas Jefferson)
Before 2012, what company was the single biggest purchaser of kale in the United States? (Pizza Hut)
Members of Table 3 won the trivia contest and were awarded baseball caps as prizes. As a bonus category, "Cardinals Against Humanity," otherwise known as table 1, won for most creative team name. Maura DeMouy, Assistant Dean for Student Support was host of the event.