February 02, 2016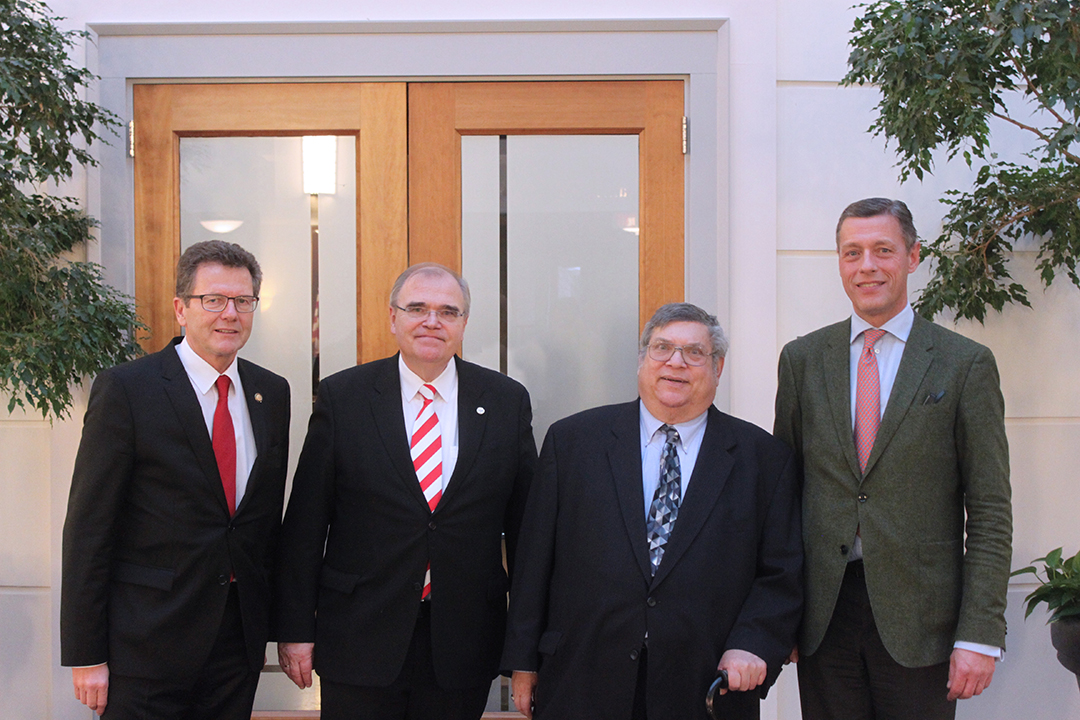 (From L to R) Ambassador Wolfgang Waldner, Dr. Wolfgang Brandstetter,
Professor Marshall J. Breger, and Dr. Christian Pilnacek
The Interdisciplinary Program in Law and Religion and the Comparative and International Law Institute co-sponsored a lecture titled, "Criminal Law Reform: Ethical and Legal Changes in Austrian Society," at the Columbus School of Law on Feb. 1. Professor Marshall J. Breger coordinated the event, that for the third time in as many years, brought Austria's top justice officials to the Columbus School of Law.
In light of the recent terrorist activities in the European Union, the Austrian government has focused on hate speech legislation and hate crimes. Dr. Christian Pilnacek, Director General for Criminal Matters in the Federal Ministry of Justice of the Republic of Austria discussed recent Austrian legislation that criminalized hate speech that has a likelilhood of inciting violence. At the same time, Pilnacek insisted that "the promotion and protections of human rights and fundamental freedoms, on the national level as well as internationally, plays an important role for the Austrian government." Austria, he argued, "strives to continuously improve the protection system through legal provisions and their implementation as well."
His remarks at the Law School provided an overview of how Austrian law deals with the kind of speech or expression that may incite violence and how Austrian hate speech legislation differs from the United State's First Amendment.

Following Pilnacek's presentation, Dr. Wolfgang Brandstetter, Federal Minister of Justice of the Republic of Austria, discussed how the Austrian government is reforming the penal law system. He explained how Austria has established a de-radicalization and correctional services task force to deal with the challenges of terrorism and terrorism prevention. Brandstetter also explained the process of detainees acquiring skills in prison through work. "Work is an important element in the Correctional Services System. From the point of view of the detainees, work is an essential factor for establishing social context in prison," he said.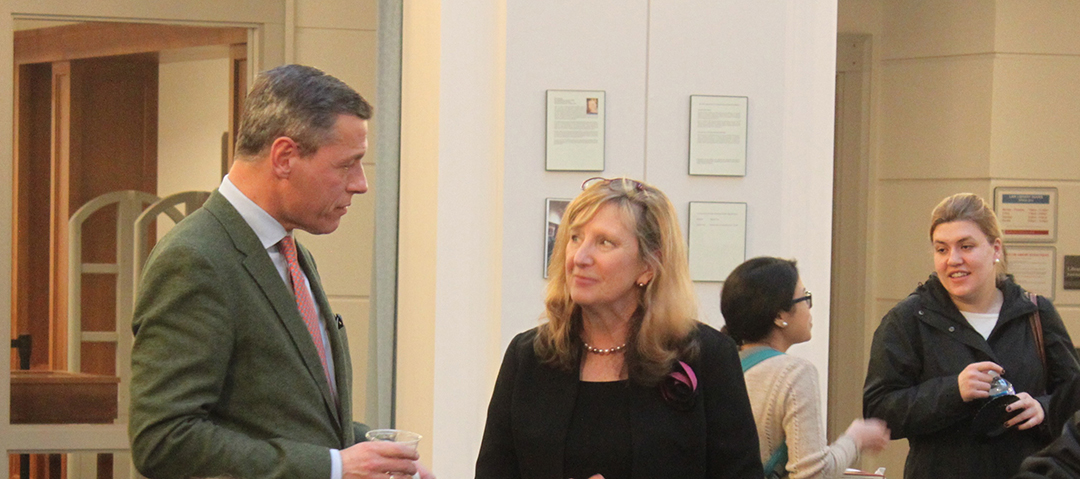 Following the lecture, students were invited to a reception in the Keelty Atrium for a chance to have informal conversations with the speakers and Wolfgang Waldner, the Austrian Ambassador to the United States. Waldner arrived in the U.S. only two weeks ago, and this was his first visit to an American university.
Wolfgang Brandstetter has served as the Minister of Justice of the Republic of Austria since 2013. Dr. Brandstetter served as the Head of the Institute on Austrian and European Criminal Business Law at the University of Vienna's School of Economics and Business from 2007-2013. He was a professor of Criminal Law and Law of Criminal Procedure at the Institute of Criminal Law and Criminology, University of Vienna from 1998-2007.
Christian Pilnacek has served as the Director General for the Federal Ministry of Justice since 2011 and has served as a judge in the District Court of Vienna and Regional Court of Korneuburg.
Click here to view the video of the event.