January 04, 2016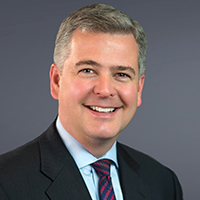 Dan Gallagher
, Class of 1999, Former Commissioner of the U.S. Securities and Exchange Commission, has been named President of Patomak Global Partners, LLC. Potomak Global Partners is a financial services consulting firm that provides strategic regulatory advice, with offices in Washington and New York.
Before being named SEC Commissioner in 2011, Gallagher performed several roles with the SEC, including staff member, Deputy Director and Co-Acting Director of the Division of Trading and Markets. As Commissioner, Gallagher focused on initiatives aimed at strengthening the capital markets and encouraging small business capital formation, including staunchly supporting the changes introduced by the JOBS Act. Prior to his role with the SEC, Gallagher was a partner with WilmerHale and General Counsel of Fiserv Securities.
Gallagher will continue to partner with Professor David Lipton, Director of the CUA Securities Law Program, in presenting a lecture series that began in Fall 2015 and will continue in Spring 2016. The lecture series was one of the highlights of the Fall Securities Law Program. For more information about CUA's Securities Law Program, please
click here
.
To read the January 4, 2016 press release regarding Gallagher's new position, please
click here
.