February 19, 2015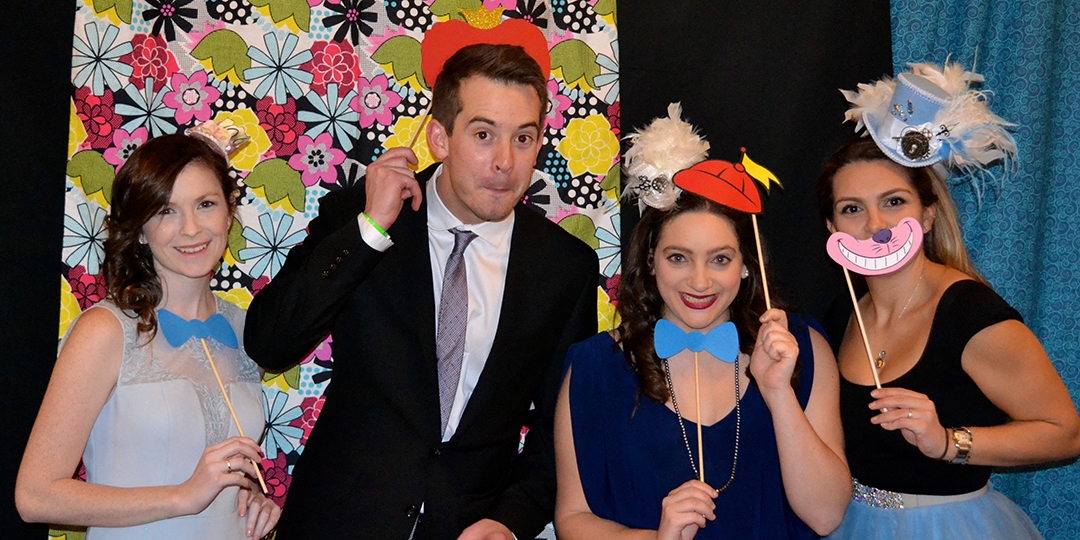 L-R: Megan Chester, Thomas O'Leary, Nora Sloss,and Nicole Chauriye.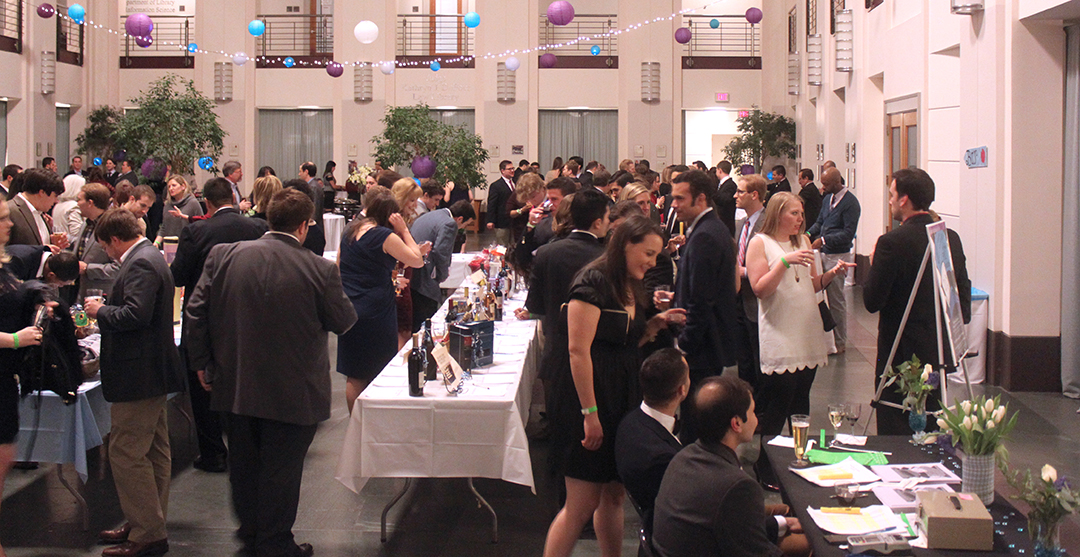 The law school's 24th annual Students for Public Interest Law (SPIL) auction raised a total of approximately $21,000 this year, enough to subsidize the public interest work of up to 17 CUA Law students next summer. Held each February, the annual SPIL auction is a signature event within the law school. It raises money to fund stipends that permit CUA Law students to take summer public interest jobs that they otherwise could not afford to accept. For the selected applicants each year, the SPIL stipend makes the critical difference in their ability to pursue their passion for helping others. The Feb. 13 event offered its usual combination of a live auction, a silent auction offering donated items on display tables for one week leading up to the main event, and for the first time, an online auction as well for bidders who could not attend in person.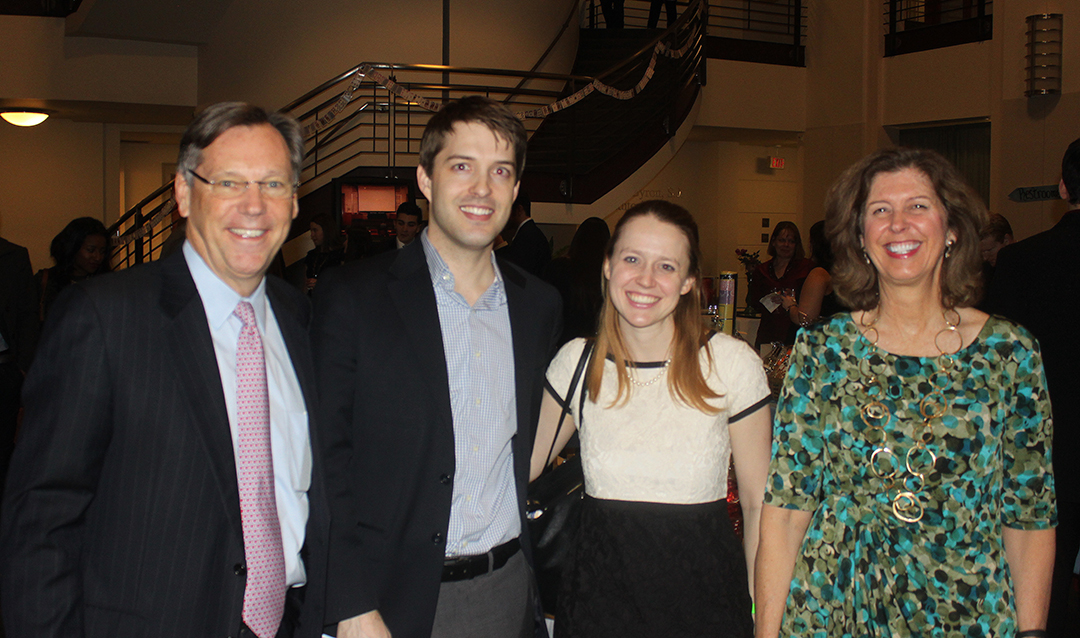 During the live auction on Friday evening, attendees shouted out their bids for such things as home cooked dinners donated by faculty members, signed books, bottles of wine, spa getaways, area restaurant meals, tickets to professional sports games, and many other enticing choices. As in past years, Professor Mary Leary once again proved up to the challenge of running a fun and exciting live auction as volunteer auctioneer. In its debut, the online auction offered items, products, and packages supplied by an outside vendor. This included such things as animation cels, experience and travel packages to exotic destinations, and celebrity, historical, sports, and music memorabilia. A "Legends of Boxing Glove," for example, sold for $2,099. Other online items included an old model typewriter used decades ago by retired professor and former dean Ralph J. Rohner, which fetched a winning bid of $90.00.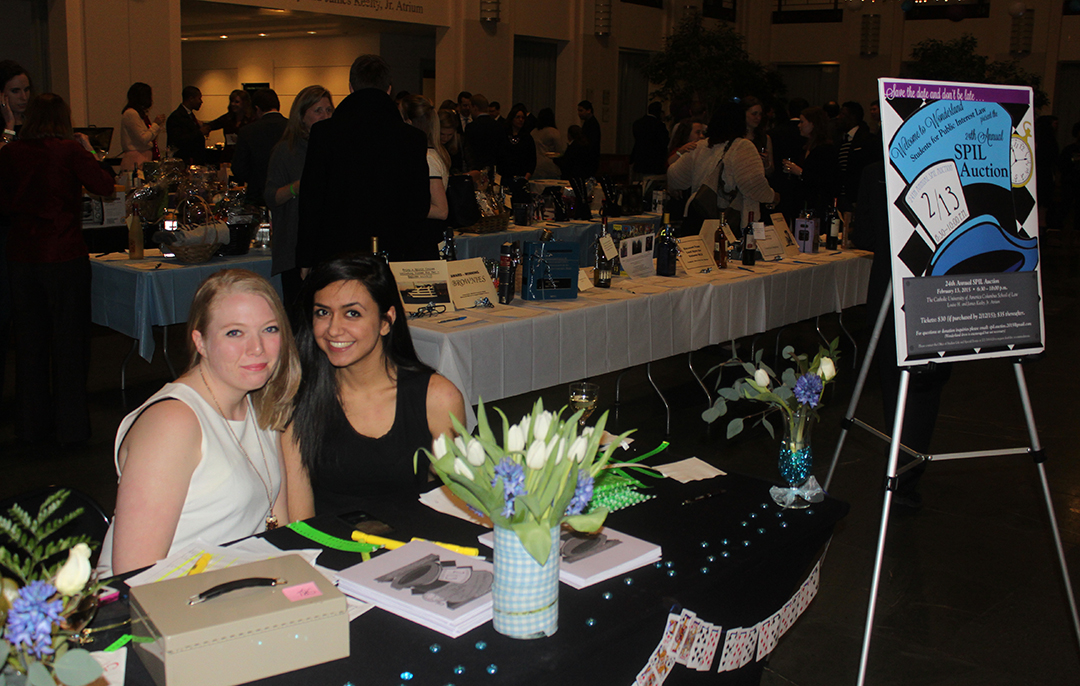 Months in the planning, the complex event was run this year by second-year student volunteers Nora Sloss, Megan Chester, Thomas O'Leary, and Nicole Chauriye. "Without the tireless work of these three dedicated people, there would be no SPIL auction this year," said Director of Financial Aid David Schrock, who provides administrative support and oversight of the annual event. "The entire law school community thanks Nora, Thomas, Megan, and Nicole, as well as everybody else who contributed to or supported this worthy cause," he said.