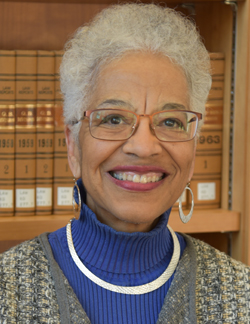 School
Columbus School of Law
Expertise
Commercial Law
Consumer Bankruptcy
Legal Education
Veryl Victoria Miles teaches consumer bankruptcy and several courses in commercial law. Much of her scholarship has been devoted to the subject of consumer bankruptcy law. She has also written and spoken about a range of issues regarding legal education and admission to the bar.
Professor Miles served as the dean of the law school from 2005 through 2012. From 1997 through 1999, she served as the associate dean of academic affairs.  Professor Miles began her career in legal education at George Mason University School of Law. Prior to joining the academy, she was an attorney with the General Counsel's Office of the Board of Governors of the Federal Reserve System in Washington, D.C.
Professor Miles holds or has held numerous professional affiliations. They include: deputy director of the Association of American Law Schools (2001 – 2003); member of the special committee on the Uniform Bar Examination for the National Conference of Bar Examiners (2008-2012); member of the American Bar Association's Accreditation Committee (2008-2012); member of the American Bar Association's Coalition on Racial and Ethnic Justice (2012-2013); member of the board of directors of The Don Bosco Cristo Rey High School in Takoma Park, MD (2010 - Present).
Professor Miles is a graduate of Wells College in Aurora, New York, and a law graduate of The Catholic University of America, Columbus School of Law. 

 
Research and Writing
PUBLICATIONS

"Faith-Based Law Schools: Making Mission Matter" 66 The Cath. U. L. Rev. 795 (2017).
"Marketable and Mobile: UBE Recommended" 85 The Bar Examiner 27 (September 2016).
"The Uniform Bar Examination: A Benefit to Law School Graduates" 79
The Bar Examiner
6 (August 2010).  
"Practice-Ready: A Law School Perspective on Bar Certification" 78 The Bar Examiner 13 (August 2009).
Editorial: "Real Choice is the Only Answer to Quality Education of All Children"
Momentum Magazine
(February/March 2007).
"A Legal Career for All Seasons: Remembering St. Thomas More's Vocation" 20 Notre Dame Journal of Law, Ethics & Public Policy 419 (2006).
D. C. Bar Practice Manual, Chapter 7: Commercial Law (2004) (edited with Ralph Rohner).
"Recruiting and Retaining Faculty of Color in the Legal Academy: A Longstanding Commitment of the Association of American Law Schools" 10 Washington and Lee University Race and Ancestry Law Journal 65 -74 (2004).
"Raising Issues of Property, Wealth and Inequality in the Law School: Contracts & Commercial Law School Course" 34 Indiana Law Review (2001).
"Uniform Commercial Code Survey: Sales" 55 The Business Lawyer 1951-1971 (August 2000).
"Fairness, Responsibility, and Efficiency in the Bankruptcy Discharge: Are the Commission's Recommendations Enough?" 102
Dickinson Law Review
795-837 (Summer 1998).
"The Nondischargeability of Divorce-Based Debts in Bankruptcy: A Legislative Response to the Hardened Heart" 60 Albany Law Review 1171 - 1216 (Summer 1997).
 "Assessing Modern Bankruptcy Law: An Example of Justice" 36 Santa Clara Law Review 1025 – 1054 (Spring 1996).
"Bankruptcy Relief From Secured Tax Liens" 42 The Practical Lawyer 35 - 48 (April 1996).
"Discharging Tax Liability in Bankruptcy" 42 The Practical
          Lawyer 41 - 56 (March 1996).
"Bankruptcy Practice in Virginia: A Multifaceted Experience" 43 Virginia Lawyer 19 - 21 (April 1995).
"The Bifurcation of Undersecured Residential Mortgages Under Section 1322(b)(2) of the Bankruptcy Code: The Final Resolution" 67 The American Bankruptcy Law Journal 207 - 285 (April 1993).
"A Debtor's Right to Avoid Liens Against Exempt Property Under Section 522 of the Bankruptcy Code: Meaningful or Meaningless?" 65 The American Bankruptcy Law Journal 117 - 141 (January 1991).
"Book Review: When The Marching Stopped" 1 George Mason University Civil RightsLawJournal 105 - 109 (Spring 1990).
"Interpreting the Nondischargeability of Drunk Driving Debts Under Section 523(a) (9) of the Bankruptcy Code: A Case of Judicial Legislation" 49 Maryland Law Review 156 - 182 (1990).
"The Public Utility in Bankruptcy: A Reality" XI Public Utilities Law Anthology xxiii - xxxiv (International Library Book Publishers 1989).
"The Black Lawyer in Virginia: Reflections Upon a Journey, 1938 – 1988" 37 Virginia Lawyer 28 - 36 (October 1988).
"Determining the Limits of Postpetition Interest Under Section 506(b) of the Bankruptcy Code: In re Ron Pair Enterprises, Inc." 5 Bankruptcy Developments Journal 443 - 462 (Fall 1988).
"Banking Affiliate Regulation Under Section 23A of the Federal Reserve Act" 105 The Banking Law Journal 476 - 509 (Nov./Dec. 1988).
"Adequate Assurance of Payment Under Section 366 of the Bankruptcy Code: A Term for Interpretive Flexibility or Judicial Confusion?" 20 Akron Law Review 715 - 748 (Spring 1987).