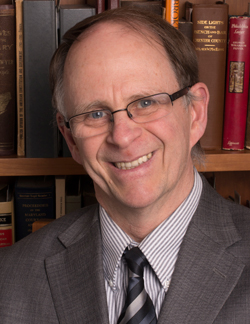 Expertise
Elderlaw
Family Law
Representing Low-Income Clients
Michael McGonnigal is the supervising attorney of the Advocacy For the Elderly Clinic, the Columbus School of Law's litigation clinic for Evening Division students. 
Professor McGonnigal sees his mission as keeping the world from beating up on his clients and giving every student who had the good sense to enroll in the Evening Division at Catholic a chance to practice law with a safety net before they graduate.
Professor McGonnigal and his students represent low-income elderly residents of the District of Columbia whenever their legal rights are in jeopardy. They have made successful appearances before the D.C. Superior Court, the D.C. Family Court, the D.C. Court of Appeals, the D.C. Office of Hearings and Appeals, the Circuit Court of Maryland, the Maryland Orphans Court, the Social Security Administration, the United States District Court for the District of Columbia, the United States District Court for Maryland, the United States Court of Appeals for Veterans Claims, the United States Court of Federal Claims and the United States Court of Appeals for the Federal Circuit. Professor McGonnigal and his student attorneys fight for clients with problems related to divorce, pensions, child custody, estates and trusts, guardianship, fly-by-night home improvement contractors, real estate disputes, housing code violations, veterans benefits and Social Security benefits. They have also conducted a series of free clinics for the men and women of the Armed Forces Retirement Home.
Professor McGonnigal was born and bred in Greater Boston and earned his undergraduate degree from Northeastern University. He labored for several years as a newspaper reporter before enrolling at the Columbus School of Law. He won his first case (on a technicality) as a CCLS student attorney in 1984. After earning his J.D., Michael McGonnigal briefly worked as an attorney-advisor for the federal government, and later plunged into solo practice representing children and adults in the District of Columbia Superior Court. Professor McGonnigal joined Columbus Community Legal Services as a supervising attorney in 1988.
While at Catholic University, Professor McGonnigal has also served as the director of the Family Law Clinic at the Roger Williams University Law School in Rhode Island and has moderated the D.C. Bar pro bono training program on child custody. He lives in Silver Spring, Maryland with his wife, Grace, and their sons, Aaron, an undergraduate at Catholic, and Igor, a student at Paint Branch High School.



Research and Writing
"Here is Who Will Die When Doctors Are Allowed to Kill Their Patients",
(John Marshall Law Review
, Fall 1997).