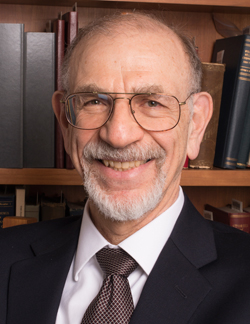 School
Columbus School of Law
Expertise
Criminal Law
Procedure
and Evidence
Electronic Surveillance
Privacy
Clifford S. Fishman, a graduate of Columbia University Law School, began his professional career by serving for eight years as an assistant district attorney in the New York County District Attorney's Office and as chief investigating assistant district attorney in New York City's Special Narcotics Prosecutor's Office. During those eight years he tried dozens of jury trials; wrote and supervised the execution of more than thirty interception orders; wrote search warrants leading to the seizure of untold quantities of heroin, cocaine, and marijuana (not to mention a 200-pound bag of peat moss); and also oversaw the purchase of the most expensive kilogram of pancake mix in the history of American law enforcement. 
Having cleaned up New York City's narcotics problem, in 1977 he joined the faculty of the Columbus School of Law, The Catholic University of America, where he teaches criminal law, criminal procedure and evidence. After 45 years of practicing and teaching law, it fascinates him how "the law struggles constantly to balance the needs of society and the rights of the individual. We never get it completely right, but we have to keep trying."  
Professor Fishman is the author of
Wiretapping and Eavesdropping
(3d ed. 2007, 4 volumes) with his co-author and CUA Law alum, Ann T. McKenna, and the first five volumes of
Jones on Evidence
(7th ed., 1992, 1994,1998, 2000, 2003), also with Ms. McKenna (only two more volumes to go, or maybe three, or ......). He is also the author of
A Student's Guide to Hearsay,
now in its 4
th
edition. (He's been heard to complain, "Every time the Supreme Court makes a mess of the Confrontation Clause, I have to write a new edition of the hearsay book.")  He has also written numerous scholarly articles about various aspects of evidence, criminal procedure, electronic surveillance and privacy. 
Professor Fishman has also occasionally taken court assignments to defend indigent defendants, in which capacity he complains bitterly about prosecutors doing to him what he delighted in doing to defense attorneys when the shoe was on the other foot.
He has testified before Congressional committees on several occasions (always as an invited witness, never as a target!), and has consulted formally and informally with, or made presentations to, the United States Department of Justice, the Drug Enforcement Administration, the Judicial Conference of the United States Court of Appeals for the Armed Forces, local prosecutors' offices, the District of Columbia Criminal Defense Attorneys' Association, the National Technical Investigators Association's local prosecutors' offices, the District of Columbia Criminal Defense Attorneys' Association, the National Technical Investigators Association, the National Association of Judiciary Interpreters and Translators, and pretty much anyone else who asks politely. He is currently participating in an ABA committee study on how to preserve privacy in the face of technological and societal developments which threaten to destroy it. 
 
Professor Fishman received his bachelor's degree from the University of Rochester in 1966 and his J.D. from Columbia University Law School in 1969. He and his wife Betty are the proud parents of two adult daughters (each happily married), and are ecstatic over their 3+ grandchildren. They are active members of their synagogue. Professor Fishman has led Jewish religious services of one kind or another in Maryland, Washington, D.C., Long Island, Tennessee, West Virginia and off the coast of Alaska. Outside interests include hiking, the Civil War (studying it, not re-fighting it) and the Washington Nationals. 



Research and Writing
BOOKS
Jones on Evidence, Civil and Criminal,
7th edition. Rochester, NY: Westgroup, volumes 1 - 5 (2003) and counting. Supplemented annually.
Wiretapping and Eavesdropping,
Third edition (4 volumes) Rochester, NY, Thomson.Reuters/West, 2007(with Anne T. McKenna). Supplemented annually.
A Student's Guide to Hearsay,
Revised fourth edition. Lexis/Nexis, 2011.
JOURNAL ARTICLES
"Searching Cell Phones After Arrest: Exceptions to the Warrant and Probable Cause Requirements," 65
Rutgers Law Rev
. 995-1040 (2103).
"Electronic Privacy in the Government Workplace and Quin V City of Ontario, California: the Supreme Court Brought Forth a Mouse," 81
Mississippi L. J
. 1359-1435 (2012).
"The Child Declarant, the Confrontation Clause, and the Forfeiture Doctrine," 16
Widener Law Review
279 (2010) (symposium article).       
"How to Analyze the Accuracy of Eyewitness Testimony in a Criminal Case," 42
Connecticut L R
435-513 (Dec. 2009) (with Professors Richard Wise and Martin Safer).
"Giles, the Confrontation Clause Giles v. California: an Interim User's Guide," 58
The Catholic University of America Law Review
703-750 (2009). 
"Defense Access to a Prosecution Witness's Psychotherapy or Counseling Records," 86 Oregon Law Review 1-63 (2007).
"Recordings, Transcripts and Translations as Evidence," 81 Washington Law Review (August, 2006).
"Defense Witness as 'Accomplice': Should the Trial Judge Give a 'Care and Caution' Instruction?" 96 Journal of Criminal Law and Criminology -- (2006) (in press).
"Technology and the Internet: The Impending Destruction of Privacy by Betrayers, Grudgers, Snoops, Spammers, Corporations and the Media," 72 George Washington Law Review 1503 (Aug. 2004).
"Crawford v. Washington: the Supreme Court opts for a new (old?) approach to the confrontation clause," 2004 The International Journal of Evidence & Proof 247-254.
"Informant Credibility and Evidence of Cooperation in Other Cases," 26 American Journal of Trial Advocacy 363 (2002).
"Old Testament Justice": Origins of Criminal Law, Criminal Procedure and Evidence in the Torah (the "Mirror of Justice" Lecture), 51 Catholic University Law Review 405 (2002).
"Consent, Credibility and the Constitution: Evidence Relating to a Sex Offense Complainant's Prior Sexual Behavior." Catholic University Law Review 44 (Spring 1995): 709.
Police Trespass and the Fourth Amendment: A Wall in Need of Mending." John Marshall Law Review 22 (Summer 1989): 795.
"Technologically Enhanced Visual Surveillance and the Fourth Amendment: Sophistication, Availability and the Expectation of Privacy." American Criminal Law Review 26 (Fall 1988): 315.
"Interception of Communications in Exigent Circumstances: The Fourth Amendment, Federal Legislation, and the United States Department of Justice." Georgia Law Review 22 (Fall 1987):1.
"Electronic Tracking Devices and the Fourth Amendment: Knotts, Karo, and the Questions Still Unanswered." Catholic University Law Review 34 (Winter 1985): 277.
"Pen Registers and Privacy: Risks, Expectations, and the Nullification of Congressional Intent." Catholic University Law Review 29 (Spring 1980): 557.