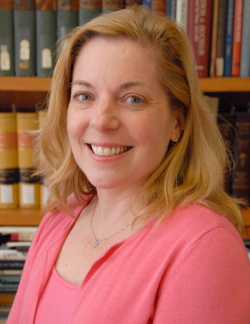 School
Columbus School of Law
Expertise
Legal Research (tools & theories)
Information Management
Elizabeth A. Edinger joined the Columbus School of Law in 2007 as the Associate Director and Head of Public Services for the Law Library. She became the Director of the Law Library in 2014. She teaches in the area of Legal Research.
After graduating from law school, Professor Edinger attended the University of Washington's program in law librarianship where she earned a Master's degree.  Before coming to CUA, she worked as a Reference Librarian for the law libraries at UC Berkeley, Rutgers University, and Yale. At Berkeley she was also a Lecturer in Residence and taught Advanced Legal Research.
 
She is a member of the American Association of Law Libraries and has served on the AALL Committee on Relations with Information Vendors, the AALL Special Committee on Fostering Legal Research as a Subject Specialty, and has been the AALL Representative to the National Equal Justice Library. She has written numerous book reviews and is the co-author of 
Finding the Law
and 
The Legal Research Survival Manual
 (both with Robert Berring Jr.).  Currently, she is the Editor of the journal
Perspectives: Teaching Legal Research and Writing,
which provides a forum for discussing the teaching of legal research and writing, focusing on research materials, tools and theories.