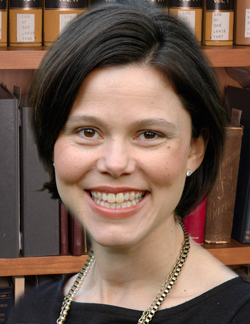 School
Columbus School of Law
Expertise
Access to counsel
Indigent defense
Structural litigation
Clemency
Death Penalty
Professor Drinan joined the faculty in 2006 as a visiting professor and scholar-in-residence. She joined the full-time faculty in the fall of 2007. She teaches Criminal Law, Criminal Procedure, and a seminar on Gender, Law and Policy.  
Before coming to the law school, Professor Drinan was an adjunct professor at George Mason University, where she taught Constitutional Law: Criminal Process and Rights. Prior to joining the academy, as a litigator in private practice, Professor Drinan worked on a wide range of issues, including federal regulatory compliance matters, contract disputes, employment matters, civil rights issues, a patent infringement suit, and an Oklahoma death penalty appeal.
Professor Drinan holds a B.A., summa cum laude, from Bowdoin College, an M.A. from Oxford University in Politics, Philosophy and Economics, and a J.D. from Stanford Law School. She was a 1995 recipient of a Truman Scholarship and a 1997 recipient of a Marshall Scholarship.
Professor Drinan's scholarship focuses on criminal justice reform, with a particular emphasis on access to justice, juvenile justice and the death penalty.

 

Research and Writing
Select Publications
Misconstruing Graham & Miller, 91 WASH U. L. REV. 785 (2014).
Getting Real about Gideon: The Next Fifty Years of Enforcing the Right to Counsel, 70 WASH. & LEE L. REV. 1309 (2013).
 
Lafler and Frye: Good News for Public Defense Litigation, 25 FED. SENTENCING REP. 138 (2012). 
Clemency in a Time of Crisis, 28

 

Ga. St. Univ. L. Rev. 1123 (2012).


Graham on the Ground, 87

 

Wash. L. Rev.51 (2012). 

 




The National Right to Counsel Act: A Congressional Solution to the Nation's Indigent Defense Crisis, 47

 

Harv. J. on Legis. 487 (2010). 

 




The Third Generation of Indigent Defense Litigation, 33

 

N.Y.U. Rev. L. & Soc. Change 427 (2009).


The Revitalization of Ake: A Capital Defendant's Right to Expert Assistance, 60

 

Okla. L. Rev. 283 (2007). 

 

 
Select Academic & Professional Presentations
 
Invited Symposium Participant, Washington & Lee University School of Law (November 2012)(Gideon at Fifty)
 
Invited Symposium Participant, Georgia State University College of Law (January 2012)(Clemency in a Time of Crisis)
 
Roundtable Participant, AALS/ABA Criminal Justice Legal Educators Colloquium (October 2011)(Clemency in a Time of Crisis)
 
Panelist, Law & Society Conference (June 2011) Graham on the Ground
 
Invited Speaker, William & Mary Law School (March 2011)(The Indigent Defense Crisis: Reform at the Macro and Micro Level)
 
Invited Speaker, University of Illinois at Urbana-Champaign (March 2011)(Why Lawyers Matter: Pursuing National Indigent Defense Reform)
 
Invited Speaker, American University, Washington College of Law (September 2010)(Paths to Indigent Defense Reform)
 
Invited Symposium Speaker, University of Tennessee College of Law (May 2010)(Systemic Litigation as a Solution for Excessive Workloads)
 
Invited Colloquium Speaker, University of Georgia Law School (October 2009)(The National Right to Counsel Act: A Legislative Solution to the Nation's Indigent Defense Crisis)
 
Invited Speaker, AALS New Law Teachers Conference (June 2008-June 2011)(speaking on variety of teaching issues)