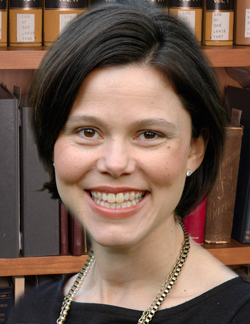 School
Columbus School of Law
Expertise
Mass incarceration and criminal reform efforts
Juvenile justice and sentencing
Race and crime
Capital punishment
Executive clemency
Professor Cara H. Drinan is a nationally recognized expert on the American criminal system, mass incarceration, juvenile justice, race and class-based inequities in the criminal system, and paths to reform.

She earned her B.A. in Economics at Bowdoin College, an M.A. in Politics, Philosophy and Economics at Oxford University, and her J.D. at Stanford Law School. After a brief period in private practice, she joined the law faculty at the Catholic University of America in 2007. Drinan teaches criminal law, criminal procedure, and seminars on constitutional issues related to crime and gender. From 2020-2022 Drinan served as the Law School's inaugural Associate Dean for Faculty Research.

Drinan's own scholarship focuses on the broken nature of the American criminal system, with a particular emphasis on youth in the system. In 2017, she published her first book on the extremity of juvenile sentencing in America, The War on Kids: How American Juvenile Justice Lost Its Way (Oxford Univ. Press). In her scholarship, Drinan seeks to offer legislative and judicial solutions to thorny criminal law and sentencing issues. She is especially interested in giving voice to those whose lives have been shaped by mass incarceration and combating systemic racism as reflected in the criminal system.

Outside of the academy, Professor Drinan is engaged in a number of professional activities. She is an elected member of the American Law Institute and regularly engages in pro bono and volunteer work that directly impacts incarcerated individuals.

Research and Writing
Books and Book Chapters
The Future of Juvenile Life-Without-Parole Sentences, in THE EIGHTH AMENDMENT AND ITS FUTURE IN A NEW AGE OF PUNISHMENT (Cambridge University Press 2020).
CRIMINAL LAW: CASES AND MATERIALS 9th Ed. (Carolina Academic Press 2021) (with Paul Marcus, Linda A. Malone & Will Berry).
THE WAR ON KIDS: HOW AMERICAN JUVENILE JUSTICE LOST ITS WAY (Oxford Univ. Press 2017).
Reforming Youth Incarceration in the United States in RETHINKING PUNISHMENT IN THE ERA OF MASS INCARCERATION (Routledge 2017).    
Select Articles
Cruel and Unusual Youth Confinement, 54 ARIZ. ST. L.J. ___ (forthcoming 2022). 
Jones v. Mississippi and The Court's Quiet Burial of the Miller Trilogy, 19 OHIO ST. J. CRIM. LAW 181 (2021). 
The Miller Trilogy and the Persistence of Extreme Juvenile Sentences, 58 AM. CRIM. L. REV. 1663 (2021).
Conversations on the Warren Court's Impact on Criminal Justice: In Re Gault at 50, 49 STETSON L. REV. 433 (2020). 
The Miller Revolution, 101 IOWA L. REV. 1787 (2016). 
Juvenile Sentencing Post-Miller: Preventive and Corrective Measures, 2015 WIS. L. REV. 203 (2015). 
Misconstruing Graham & Miller, 91 WASH U. L. REV. 785 (2014). 
Getting Real about Gideon: The Next Fifty Years of Enforcing the Right to Counsel, 70 WASH. & LEE L. REV. 1309 (2013). 
Graham on the Ground, 87 WASH. L. REV. 51 (2012).
The National Right to Counsel Act: A Congressional Solution to the Nation's Indigent Defense Crisis, 47 HARV. J. ON LEGIS. 487 (2010).
The Third Generation of Indigent Defense Litigation, 33 N.Y.U. REV. L. & SOC. CHANGE 427 (2009).