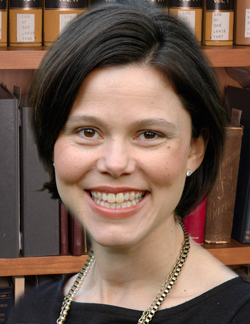 School
Columbus School of Law
Expertise
Criminal justice policy and reform
Juvenile justice and sentencing
Race and crime
Capital punishment
Executive clemency
Professor Cara H. Drinan is a nationally recognized expert on the right to counsel, juvenile sentencing and criminal justice reform.

She earned her B.A. in Economics at Bowdoin College, an M.A. in Politics, Philosophy and Economics at Oxford University, and her J.D. at Stanford Law School. After a brief period in private practice, she joined the law faculty at the Catholic University of America in 2006. Drinan teaches criminal law, criminal procedure, and criminal justice reform, among other courses. She also serves as the law school's Director of Faculty Research, supporting her colleagues in their research development, publication and promotion.

Drinan's own writing focuses on access to counsel, sentencing, and youth in the criminal justice system. In 2017, she published her first book on the extremity of juvenile sentencing in America, The War on Kids: How American Juvenile Justice Lost Its Way (Oxford Univ. Press). In her scholarship, Drinan seeks to offer legislative and judicial solutions to thorny criminal law and sentencing issues. She is especially interested in giving voice to those whose lives have been shaped by mass incarceration and combating systemic racism as reflected in the criminal justice system. 

Outside of the academy, Professor Drinan is engaged in a number of professional activities. She serves as the Secretary for the American Association of Law Schools Criminal Justice Section; is a member of the American Law Institute; and regularly engages in pro bono work.

 

Research and Writing
Books and Book Chapters
The Future of Juvenile Life-Without-Parole Sentences, in THE EIGHTH AMENDMENT AND ITS
FUTURE IN A NEW AGE OF PUNISHMENT (Cambridge University Press 2020).
CRIMINAL LAW: CASES AND MATERIALS 9 th Ed. (forthcoming Carolina Academic Press 2020)
(with Paul Marcus, Linda A. Malone & Will Berry).
THE WAR ON KIDS: HOW AMERICAN JUVENILE JUSTICE LOST ITS WAY (Oxford University Press
2017).
Reforming Youth Incarceration in the United States in RETHINKING PUNISHMENT IN THE ERA
OF MASS INCARCERATION (Routledge 2017). 

 

 
Select Articles
The Miller Revolution, 101 IOWA L. REV. 1787 (2016).
Juvenile Sentencing Post-Miller: Preventive and Corrective Measures, 2015 WIS. L. REV.
203 (2015).
Misconstruing Graham & Miller, 91 WASH U. L. REV. 785 (2014).
Getting Real about Gideon: The Next Fifty Years of Enforcing the Right to Counsel, 70
WASH. & LEE L. REV. 1309 (2013).
 Graham on the Ground, 87 WASH. L. REV. 51 (2012).
The National Right to Counsel Act: A Congressional Solution to the Nation's Indigent
Defense Crisis, 47 HARV. J. ON LEGIS. 487 (2010).
The Third Generation of Indigent Defense Litigation, 33 N.Y.U. REV. L. & SOC. CHANGE 427
(2009).
Recent Academic & Professional Presentation
THE WAR ON KIDS book talks nationwide from 2017 – present
GW Law School, National Sheriff's Association, Busboys & Poets, Stanford Club (D.C.), Seattle Town Hall (Seattle), Books & Books (Miami), Arizona Cardinals (Phoenix), Harvard School of Public Health (Boston), John Jay College, Center on Media, Crime & Justice (New York), Coalition for Juvenile Justice Annual Conference (Baltimore), Ramsey County Juvenile Justice Department (Minneapolis), Virginia State and County Juvenile Justice Conferences (Charlottesville,Fairfax).
American Association of Law Schools Annual Meeting, Speaker for Opening Plenary Panel on Access to Justice (January 2018).
American Association of Law Schools Annual Meeting, Panelist for Criminal Justice Section (January 2018) (Juveniles, Incarceration and the Constitution).
Workshop Participant, Southeastern Association of Law Schools Annual Conference August 2013-present)(various presentations on criminal justice reform and juvenile justice).