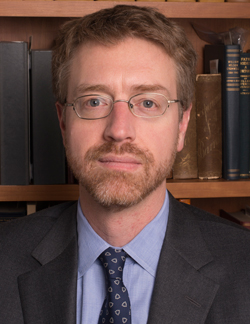 School
Columbus School of Law
Expertise
Tax-Exempt Organizations
Charitable Deduction
Political Activities of Nonprofits
Professor Colinvaux teaches courses in Federal Income Taxation, Legislation, and Property. From 2001-2008, Professor Colinvaux was counsel to the non-partisan Joint Committee on Taxation in the U.S. Congress and played an important role in developing the major charitable giving and reform legislation enacted during that period, including the Pension Protection Act of 2006.
Professor Colinvaux's research interests center around the federal tax law of nonprofit organizations and the overall role the tax law plays in regulating the activities of private nonprofit entities. Professor Colinvaux has testified before the Senate Finance Committee and the House Ways and Means Committee on tax reform issues relating to the nonprofit sector. He is often cited for his expertise in nonprofit organizations by major media outlets, and is a frequent speaker at academic and other conferences. He has also testified as an expert witness in litigation on tax-exempt status issues.
Professor Colinvaux is a member of the Board of Advisors of the Tax Policy and Charities project sponsored by the Urban Institute and Tax Policy Center, and also serves on the AALS Committee on Nonprofit and Philanthropy Law. He is past Chair of the Exempt Organizations Committee of the D.C. Bar's Tax Section, and former Member of the Board of Advisors for the National Center on Philanthropy and the Law at the New York University School of Law.
In August 2014, Professor Colinvaux assumed the directorship of the law school's
Law and Public Policy Program
.
Professor Colinvaux received his J.D. degree magna cum laude from the Indiana University (Maurer) School of Law and an M.Litt from the University of Oxford (Merton College). He also clerked for the Hon. Theodore R. Boehm of the Indiana Supreme Court.
Many of Professor Colinvaux's publications can be accessed on his
SSRN page
. 
Research and Writing
The Charitable Contributions Deduction: Federal Income Tax Rules (with Harvey Dale), 68 TAX LAW. 331 (2015).
Political Activity Limits and Tax Exemption: A Gordian's Knot, 34 VA. TAX REV. 1 (2014).
Summary of and Comments on Exempt Organization Provisions of the Tax Reform Act of 2014, Urban Institute and Tax Policy Center (2014),
Conservation Easements: Design Flaws, Enforcement Challenges, and Reform, 33 UTAH L. REV. 755 (2013).
Charitable Contributions of Property: A Broken System Reimagined
, 50
Harv. J. on Legis. 263 (2013).
Tax Reform and the Charitable Deduction: Changes Should be Informed by Rationale
, 138
Tax Notes 1453, March 25, 2013.
Testimony Before the House Committee on Ways & Means
, Tax Reform and Charitable Contributions, 32
Tax Notes Today 53 (2013).
Enforcing the Enhanced Charitable Deduction: Improved Reporting on the Form 8283
,
Urban Institute & Tax Policy Center (Dec. 2012).
The Political Speech of Charities in the Wake of Citizens United: In Defense of Prohibition, 62 CASE WES. L. REV. 685-756 (2012).
Evaluating the Charitable Deduction and Proposed Reforms
,
Urban Institute & Tax Policy Center (June 2012) (with Brian Galle & Eugene Steuerle).
Testimony Before the House Committee on Ways & Means, Subcommittee on Oversight
96
Tax Notes Today 52 (2012).
The Conservation Easement Tax Expenditure: In Search of Conservation Value
, 37
Colum. J. Envtl. L. 1-61 (2012).
Testimony
Before the Senate Finance Committee, United States Senate, Tax Reform Options: Incentives for Charitable Giving
68 EXEMPT ORG. TAX REV. 536 (2011).
Charity in the 21st

 

Century: Trending Toward Decay

, 11 FLORIDA TAX REV. 1-71 (2011).
Regulation of Political Organizations and the Red Herring of Tax-Exempt Status, 59 NATL. TAX J. 531-549 (2006).