October 26, 2020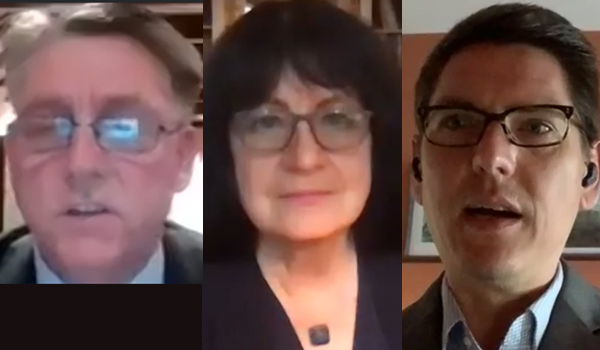 On October 22, 2020, Catholic Law's Compliance, Investigations & Corporate Responsibility (CICR) Program hosted its first in a series of webinars on Human Rights. The series strives to address issues that profoundly impact human lives both in the United States and around the globe. This inaugural program, Business Accountability for Human Rights: The Impact of the COVID-19 Pandemic. offered an overview of human rights issues in global supply chains with a particular focus on the impact of the COVID-19 pandemic. Dean Stephen C. Payne welcomed participants and spoke briefly about the significance of corporate responsibility and legal compliance to the mission of our law school.
Professor Sarah Duggin, Director of the CICR Program, moderated the discussion. Duggin began by introducing the panelists. Kevin Hyland, O.B.E, is a globally recognized expert on modern-day slavery and forced labor with 30 years of experience in law enforcement. Hyland was the United Kingdom's first Independent Anti-slavery Commissioner and currently chairs the Institute of Human Rights and Business Responsible Recruitment Group; he is a member of the Council of Europe's Group of Experts on Action Against Trafficking in Human Beings, and he is the chief advisor to the Santa Marta Group. John Durkalski '08 is a Partner at Butsavage & Durkalski, P.C. He provides general counsel legal services to unions, nonprofit organizations, and political action committees.
Duggin started the program by asking the panelists to provide a brief overview of their work and their perspectives on human rights in the supply chain globally and in the United States. The panel then moved onto discussion questions—first a series of set questions from Duggin, then mixing in questions from the audience. Topics ranged from the challenges of eradicating human rights abuses in global supply chains, to the impact of the pandemic in exacerbating these abuses, to the responsibility and accountability of businesses.
Both Hyland and Durkalski emphasized that vulnerable people are suffering exploitation throughout the world. Hyland noted that more than 40 million adults around the world are ensnared in modern-day slavery, while more than 151,000,000 children are working in exploitive conditions. He stated that the problem will not be solved until governments, international organizations, businesses, and consumers take the problem seriously. Durkalski emphasized that we need consequences to make an impact and pointed out that variations among state occupational health and safety laws make a real difference to the lives of vulnerable workers.
Both speakers agreed that the COVID-19 pandemic has exacerbated the plight of workers caught in exploitive conditions in the United States and other countries. Hyland pointed out that, ironically, the COVID-19 pandemic has shed new light on human suffering—not because of increased concern for workers' well-being, but because of concerns over health risks the spread of infection within a facility could cause for the public. Durkalski noted that meat processing workers in the United States are particularly vulnerable because of close working conditions and the executive mandate to keep these facilities open even during some of the worst periods in the pandemic to date.
Hyland observed that, despite the difficulties of creating transnational standards, airlines manage to function safely and effectively across national borders, and international sports competitions such as the soccer World Cup adhere to specific sets of rules throughout the world. Both speakers held out real hope for change if we begin taking action and develop strategies to make a difference, rather than simply talking about the problems so many vulnerable people face in global supply chains.
As the program drew to its conclusion Duggin thanked Hyland and Durkalski for lending their expertise to the evening's discussion. In closing, she said, "Thank you for all of the light you have shed on these issues. They are so difficult, but you both do such a good job of telling us, 'Yes, we can solve these, and we have to solve these.' It's a matter of morality to know about these issues and to figure out how we are going to stop them. None of us can afford to sit back and wait for someone else to take care of the problem."
The CICR looks forward to continuing this web series. The next program installment will be held online on January 27, 2021.