The faculty at Catholic Law are experts in their fields. Dedicated to ensuring the success of every individual at Catholic Law, they offer excellent support to both prospective and current students. Throughout every step of the law school experience—from admission to graduation—they offer support and will serve as a resource to you, offering advice and preparing you for work in law.
Learn more about our Hispanic Student Mentoring and Leadership Program faculty mentors below.
Faculty
J. Joel Alicea, Assistant Professor of Law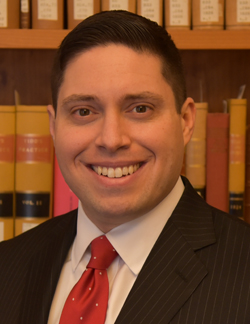 Expertise: Constitutional Law and Civil Litigation
"I didn't grow up with many lawyers in my life who could give me career advice or help me navigate law school, so I didn't really know what was required to succeed in law school or in my early legal career. That was one way in which my mentors played such a big role in my life." For Professor J. Joel Alicea mentorship can have a significant impact on a young lawyer's career. With the launch of the Law School's Hispanic Student Mentoring & Leadership Program, Alicea hopes to provide Hispanic students with mentoring opportunities. Alicea shared, "Many of our Hispanic students are probably the first in their families to go to law school or generally didn't grow up with a lot of lawyers around them, and I would like to help them to the extent that I can. I'm honored to be a part of this important initiative, and I'm glad that the Dean launched it." Alicea recently took the time to reflect on his early career and the mentorships that have helped him along the way.
Growing up primarily in El Paso, Texas, Alicea moved around during his early childhood due to his father's position in the U.S. Army. "The Army is what caused my parents to leave Puerto Rico, where they were both born and raised, and the vast majority of my family still lives on the island." His father later retired as a lieutenant colonel. One constant throughout his childhood was Alicea's interest in becoming a lawyer: "The essential role that lawyers play in the administration of justice strongly appealed to me, in my own rudimentary, childlike way."
His desire to become a lawyer was further solidified while attending Princeton University for his undergraduate degree. "In college, I became interested in questions of constitutional theory, eventually writing my senior thesis on that topic. So, by my senior year in college, there wasn't much question in my mind that I would apply to law school." After graduation, Alicea went directly to Harvard Law School where he continued to focus on constitutional law and graduated in 2013.
Throughout his legal career, Alicea has been fortunate to have had several mentors—all of whom have played important roles in his life. Alicea named just a few of those who made a particular impact. "I've been blessed with several mentors in my legal career. Justice Alito (for whom I clerked on the Supreme Court) would obviously be at the top of that list, as would Judge O'Scannlain (for whom I clerked on the U.S. Court of Appeals for the Ninth Circuit), Chuck Cooper (the head of Cooper & Kirk, the law firm where I practiced law full time for several years), Robert P. George (a professor at Princeton), and John Manning (now the dean at Harvard Law School)." He added, "As a student and a young lawyer, I found those relationships invaluable. So many of the skills of a successful lawyer are difficult to learn if you don't have the opportunity to observe and emulate them."
As an example, Alicea spoke of one of his mentors, Michael Kirk, one of the name partners at Cooper & Kirk. "Working closely on cases with [Kirk] gave me the chance to see how he edited a brief, how he prepared for and performed at trial, and how he reasoned through legal arguments or strategic issues. No amount of classroom preparation or study can substitute for that kind of mentorship, though law school can provide a good foundation for the acquisition of those skills." He concluded, "A great mentor not only models the skills that a mentee should want to acquire but also the character that the mentee should want to achieve."
Having experienced firsthand the value of mentoring relationships, Alicea seeks to foster similar relationships within the Catholic Law community. As he looks forward to leading the Hispanic Student Mentoring & Leadership Program, Alicea shared this advice for Hispanic law students today: "There are a lot of cultural stereotypes and expectations about what Hispanic lawyers are supposed to believe or what areas of law they are supposed to be interested in, and I would advise our students to ignore those stereotypes, think for themselves, and pursue the vocations to which they believe they are called."


Antonio Fidel Perez, Professor of Law
Expertise: Public & Private International Law and Foreign Relations Law
Since coming to Catholic Law in 1993, Professor Antonio Fidel Perez has taught a wide range of courses including public international law, international economic regulation, international regulation of telecommunications, national security and foreign relations law, a special seminar in homeland security issues, antitrust, contracts, torts, constitutional law, and conflict of laws.
He has been recognized with several teaching awards (Best First-Year Professor Award, Day Division, 2002, 2003, 2006, 2010, 2011, 2013 and 2016, and Best Evening Division Professor Award, 2004 and 2014) and was chosen by the graduating class as their Faculty Marshall in 2017. He has also published widely in international law topics, including United Nations peacekeeping and use of force, nuclear non-proliferation international trade, the recognition and enforcement of international judgments, and international human rights and international consumer protection.
Professor Perez's experience before coming to Catholic Law included several years at the Office of the Legal Adviser of the U.S. Department of State, where his areas of responsibility included international civil and criminal mutual legal assistance, economic sanctions, peaceful nuclear cooperation and nuclear non-proliferation issues. Prior to that, he was as a corporate lawyer in the Antitrust Group of Shearman Sterling in New York.
In 2006, Professor Perez accepted life membership on the Council on Foreign Relations. The independent, nonpartisan think-tank and research organization has become a widely-known and deeply influential voice in U.S. foreign policy since its founding in 1921. He has also served as a member of the Inter-American Juridical Committee of the Organization of American States, to which he was elected by the OAS General Assembly held in Quito, Ecuador in June 2004, after being nominated by the Bush Administration for a 4-year term ending in 2008. In that capacity he reported on the OAS Juridical Committee's work to the International Law Commission of the United Nations, meeting in Geneva, Switzerland.
As a member of the State Department's Advisory Committee on Private International Law, he has served on several study groups concerning conflict of laws and international dispute resolution supporting the work of the U.S. State Department at the Hague Conference on Private International Law. Professor Perez has previously served as a member of the roster of arbitrators for the antidumping and countervailing duty disputes under chapter 19 of the North American Free Trade Agreement. He was also was selected by the Hispanic Bar Association of the District of Columbia as one of its "Rising Legal Stars" for 2006.