Opportunities for Admitted Students
The Hispanic Student Mentoring and Leadership Program begins even before you set foot on campus as a student. From the day you are admitted to Catholic Law, we will be there to guide you through your decision to attend our law school, and we will help you prepare to start as a student here.
Once you're admitted, we will ask if you would like to discuss your decision about where to go to law school with one of our Hispanic faculty members, who will serve as your mentor throughout your decision-making process if you wish. They will welcome you to Catholic Law, serve as a resource to help answer your questions, and offer you advice as you think through your decision. Deciding where to go to law school can seem daunting, especially for many Hispanic applicants who do not come from families or environments with a lot of lawyers. Your faculty mentor is here to help guide you.
We will also assign a current, Hispanic student to serve as your Admission Buddy if you wish. Your Admission Buddy will be your go-to source of information about life as a student at Catholic Law. Curious to know more about the student organizations that enrich the culture of our law school? Interested to know how our location in Washington, D.C., will affect your experience here? Wondering about where our students choose to live while they attend school? These are all great questions that your Admission Buddy is here to answer.
Once you've decided to come to Catholic Law, we want to make sure that you are in the best possible position to succeed. That's why we provide a law school preparation course the summer before your first year of law school. The preparation course is open to all students, and it is a great way for you to get ready for the exciting challenges of your first year.


Opportunities for Current Students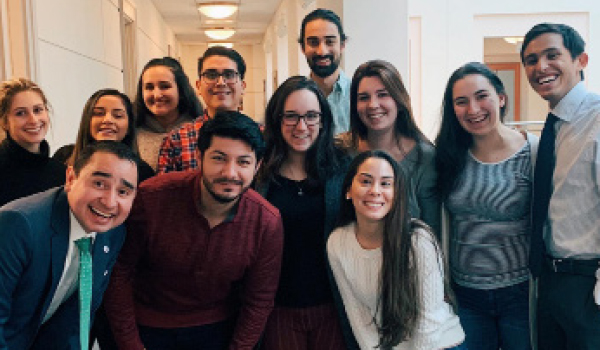 When you arrive on campus to begin your legal career at Catholic Law, the Hispanic Student Mentoring and Leadership Program will be here to support you every step of the way.
The Hispanic faculty member we assigned to you during the admissions process will now become your Faculty Mentor during your time at Catholic Law if you would like to continue with the Program. The first year of law school can feel disorienting or intimidating, especially to many of our Hispanic students whose families did not come from a legal background, and your faculty mentor will help you succeed. Our Hispanic faculty can provide you with advice about how to prepare for class, what you should be getting out of class, test-taking strategies to maximize your grades, summer jobs, and post-graduation employment. They will be available to meet with you one-on-one throughout the year.
And don't forget about your Admission Buddy! If you choose to continue with the Program, they or another assigned student will now be your Student Mentor and can help you navigate the first year. They will be a great resource for you as you figure out the studying habits that work best for you, prepare to apply for summer jobs, and decide which student organizations you want to join.
Speaking of student organizations, the Latin American Law Students Association (LALSA) is one of the most active and admired groups at Catholic Law. LALSA hosts speakers, networking events, and social gatherings for Latino students. We are confident that you will find a warm and welcoming community at LALSA. Check out the profile of Nicolas Valderrama, a recent former president of LALSA.