The 2023 Seigenthaler Debate
 February 13, 2023
6:00 p.m. (EST)



Topic: "Resolved: The legal regime for defamation inaugurated by New York Times v. Sullivan is too protective of free speech over reputation"

For nearly sixty years, the Supreme Court's decision in New York Times Co. v. Sullivan, 376 U.S. 254 (1964), has set the parameters for reputational interest claims. When the matter involves "public figures," the court has required a showing of actual malice on the part of defendants as a means of protecting first amendment imperatives. However, the breadth of the decision's application has come under increased scrutiny from the bench in recent federal cases. See dissent opinions in Berisha v. Lawson, 141 S. Ct. 2424 (2021) Tah v. Glob. Witness Publ'g, Inc., 991 F.3d 231, cert. denied, 142 S. Ct. 427 (2021); Coral Ridge Ministries Media, Inc. v. S. Poverty L. Ctr., 142 S. Ct. 2453, (2022). In this year's Seigenthaler Debate, the debate will revolve around the pros and cons of the decision's balance between reputational injury and press protection.
Format: The program consists of a welcome by Professor A.G. Harmon, introductions by Professor Marshall Breger,  the debate, and an opportunity for the audience to submit questions through the moderator. 
This year's debate is in honor of the late Judge Laurence Silberman of the United States Court of Appeals for the District of Columbia.


A zoom link to join will be provided to registered attendees.
Pro Position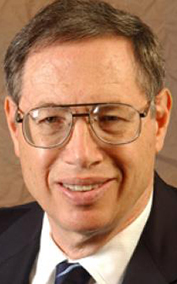 Richard A. Epstein is the James Parker Hall Distinguished Service Professor Emeritus of Law and a Senior Lecturer at the University of Chicago Law School. Epstein started his legal career at the University of Southern California, where he taught from 1968 to 1972. He served as Interim Dean of the Law School from February to June 2001. He is also the Laurence A. Tisch Professor of Law at New York University, and the Peter and Kirsten Bedford Senior Fellow at the Hoover Institution.
Professor Epstein received an LLD, hc, from the University of Ghent in 2003. He has been a member of the American Academy of Arts and Sciences since 1985 and a Senior Fellow of the Center for Clinical Medical Ethics at the University of Chicago Medical School since 1983. He served as editor of the Journal of Legal Studies from 1981 to 1991, and of the Journal of Law and Economics from 1991 to 2001.
His books include The Classical Liberal Constitution: The Uncertain Quest for Limited Government (Harvard 2014); Cases and Materials on Torts (Aspen Law & Business; 10th ed. 2012) (with Catherine M. Sharkey); Design for Liberty: Private Property, Public Administration, and the Rule of Law (Harvard 2011); The Case Against the Employee Free Choice Act (Hoover 2009); Supreme Neglect (Oxford 2008); Antitrust Decrees in Theory and Practice: Why Less Is More (AEI 2007); Overdose: How Excessive Government Regulation Stifles Pharmaceutical Innovation (Yale University Press 2006); How Progressives Rewrote the Constitution (Cato 2006); Torts (Aspen Law & Business 1999); Principles for a Free Society: Reconciling Individual Liberty with the Common Good (Perseus Books 1998); Mortal Peril: Our Inalienable Rights to Health Care (Addison-Wesley 1997); Simple Rules for a Complex World (Harvard 1995); Bargaining with the State (Princeton 1993); Forbidden Grounds: The Case against Employment Discrimination Laws (Harvard 1992); Takings: Private Property and the Power of Eminent Domain (Harvard 1985); and Modern Products Liability Law (Greenwood Press 1980). He has written numerous articles on a wide range of legal and interdisciplinary subjects.
Professor Epstein has taught courses in administrative law, antitrust law civil procedure, communications, constitutional law, contracts, corporations, criminal law, criminal procedure, employment discrimination law, environmental law, financial regulation, health law and policy, legal history, labor law, military law, property, real estate development and finance, jurisprudence, labor law, land use planning, patents, individual, estate and corporate taxation, Roman law, torts, water law, and workers' compensation.
Con Position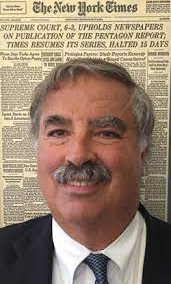 George Freeman, Media Law Resource Center Executive Director
George Freeman is Executive Director of the Media Law Resource Center, a non-profit trade association supporting the media in legal matters. Before that he was Of Counsel to the law firm of Jenner & Block.
For 31 years he was the chief First Amendment lawyer in the Legal Department of The New York Times, leaving as Vice President and Assistant General Counsel in 2012. At the Times, he was primarily responsible for newsroom counseling of The Times, the company's many other newspapers and its television stations and magazines; he also was responsible for the newspaper's and company's litigations, and was at the forefront of numerous high-profile First Amendment cases, including Judy Miller's resistance to a subpoena in the prosecution of Scooter Libby and the successful defense of The Times in a libel case brought by quarterback Ken Stabler. The Times newspaper didn't lose or settle a libel case for dollars during his tenure.
He was the William J. Brennan Visiting Professor at the Columbia Journalism School and also for decades taught at New York University and CUNY's Graduate School of Journalism. He has been Chair of the ABA's and NYS Bar Association's media law committees and was the co-founder and longtime Co-chair of the American Bar Association's Forum on Communications Law annual ("Boca") conference. He is a graduate of Amherst and the Harvard Law School, and is an avid tennis player.
Moderator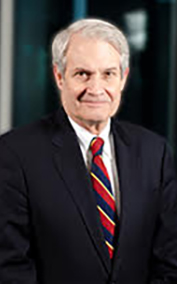 Judge Thomas B. Griffith, special counsel to Hunton Andrews Kurth LLP, recently served as a federal judge on the United States Court of Appeals for the District of Columbia Circuit.
Judge Griffith served on the DC Circuit from 2005–2020. The Washington Post has described him as "widely respected by people in both parties" and a "sober lawyer with an open mind." Judge Griffith joined the firm in 2021, focusing his practice on appellate litigation, congressional and internal investigations, and strategic counseling. Judge Griffith began his legal career in private practice before serving for four years as Senate Legal Counsel, the nonpartisan chief legal officer of the United States Senate (1995–1999). In this capacity, he represented the interests of the Senate in litigation as well as advising Senate leadership and committees on investigations. After a brief return to private practice, Judge Griffith served for five years as General Counsel of Brigham Young University, the largest religious university in the country.
As a member of the DC Circuit, Judge Griffith was the author of approximately 200 opinions on a range of matters including administrative, environmental and energy law, and congressional investigations. He was appointed by the Chief Justice of the United States to serve on the Judicial Conference's Committee on the Judicial Branch, which involves the judiciary's relationship to the Executive Branch and Congress, and the Code of Conduct Committee, which sets the ethical standards that govern the federal judiciary. Judge Griffith is a Lecturer on Law at Harvard Law School, and has held the same faculty position at the law schools at Stanford and Brigham Young Universities. He has long been active in rule of law projects in Eastern Europe, Eurasia, Asia and domestically.