The 2024 Seigenthaler Debates 
Please check back for information about the upcoming 2024 debates.
The 2023 Seigenthaler Debate
 February 13, 2023
6:00 p.m. (EST)


 Registration is closed.


Topic: "Resolved: The legal regime for defamation inaugurated by New York Times v. Sullivan is too protective of free speech over reputation"

For nearly sixty years, the Supreme Court's decision in New York Times Co. v. Sullivan, 376 U.S. 254 (1964), has set the parameters for reputational interest claims. When the matter involves "public figures," the court has required a showing of actual malice on the part of defendants as a means of protecting first amendment imperatives. However, the breadth of the decision's application has come under increased scrutiny from the bench in recent federal cases. See dissent opinions in Berisha v. Lawson, 141 S. Ct. 2424 (2021) Tah v. Glob. Witness Pubg, Inc., 991 F.3d 231, cert. denied, 142 S. Ct. 427 (2021); Coral Ridge Ministries Media, Inc. v. S. Poverty L. Ctr., 142 S. Ct. 2453, (2022). In this year's Seigenthaler Debate, the debate will revolve around the pros and cons of the decision's balance between reputational injury and press protection.
Format: The program consists of a welcome by Professor A.G. Harmon, introductions by Professor Marshall Breger,  the debate, and an opportunity for the audience to submit questions through the moderator. 
This year's debate is in honor of the late Judge Laurence Silberman of the United States Court of Appeals for the District of Columbia.
Pro Position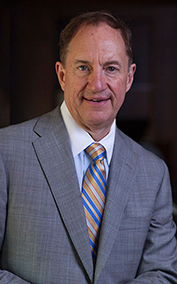 Rodney A. Smolla, President of Vermont Law and Graduate School 
Officially beginning his term as president of Vermont Law and Graduate School on July 1, 2022, Rodney Smolla joined VLGS from Widener University Delaware Law School, where he served as dean and professor of law since 2015.
Previously president of Furman University, and dean at Washington and Lee University and University of Richmond law schools, Professor Smolla has long been a been a strong advocate for experiential learning, the development of professional competencies, and civic engagement.
Professor Smolla brings to VLGS extensive experience in higher education leadership, with a special focus on strategic and operational planning, enrollment management, and fundraising. After inheriting a nearly $6 million annual operating deficit at Delaware Law School, he will leave the institution with $5 million in budget surpluses, achieved in large part due to dramatic increases in JD enrollment as well as creative revenue generation in non-JD programming.
He has been a faculty member at the William & Mary, DePaul, University of Illinois, and University of Arkansas law schools, and a visiting professor at law schools at Duke, University of Georgia, University of Indiana, Denver University, and University of Melbourne. Additionally, he has served as the director of the Institute of Bill of Rights Law at the College of William and Mary, and senior fellow and project director of the Washington Annenberg Program of Northwestern University. He currently serves as the chair of the AALS Committee on Academic Freedom and Tenure and in 2011 he was appointed by the governor of South Carolina as a commissioner on the South Carolina Commission of Higher Education, which included within its mission the oversight of all of South Carolina's public universities and colleges, and licensure and programmatic approval for all public and private educational programs within the state.
Professor Smolla has been and remains an active litigator. He is particularly well-known for his representation of American and international clients on matters relating to defamation and invasion of privacy. He is admitted to the Illinois, Virginia, and Delaware bars, and he has participated as counsel or co-counsel in many litigation matters, in state and federal courts throughout the nation. He is a frequent advocate on a wide variety of legal issues, and has presented oral argument in state and federal courts across the country, including the Supreme Court of the United States.
The author of more than 100 articles published in law reviews and other publications, he is a nationally known scholar on matters relating to constitutional law, civil rights, freedom of speech, and mass media, particularly matters relating to libel and privacy. He is the author of five multi-volume legal treatises, all published by Thomson Reuters, updated twice annually: "Law of Defamation; Smolla and Nimmer on Freedom of Speech"; "Rights and Liabilities in Media Content, Internet, Broadcast, and Print"; "Federal Civil Rights Acts"; and, "Law of Lawyer Advertising." Among the many trade and university press books he has authored are "Suing the Press: Libel, the Media, and Power" (Oxford University Press 1986) (won ABA Silver Gavel Award Certificate of Merit); "Jerry Falwell v. Larry Flynt: The First Amendment on Trial" (St. Martin's Press 1988); and, "Deliberate Intent: A Lawyer Tells the True Story of Murder by the Book" (Crown Publishers 1999), which was made into a television movie by FX, with Timothy Hutton playing the role of Smolla.
A first-generation college student, Professor Smolla received his JD from the Duke University School of Law and his BA cum laude from Yale University.
Con Position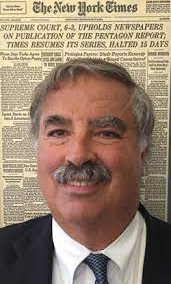 George Freeman, Media Law Resource Center Executive Director
George Freeman is Executive Director of the Media Law Resource Center, a non-profit trade association supporting the media in legal matters. Before that he was Of Counsel to the law firm of Jenner & Block.
For 31 years he was the chief First Amendment lawyer in the Legal Department of The New York Times, leaving as Vice President and Assistant General Counsel in 2012. At the Times, he was primarily responsible for newsroom counseling of The Times, the company's many other newspapers and its television stations and magazines; he also was responsible for the newspaper's and company's litigations, and was at the forefront of numerous high-profile First Amendment cases, including Judy Miller's resistance to a subpoena in the prosecution of Scooter Libby and the successful defense of The Times in a libel case brought by quarterback Ken Stabler. The Times newspaper didn't lose or settle a libel case for dollars during his tenure.
He was the William J. Brennan Visiting Professor at the Columbia Journalism School and also for decades taught at New York University and CUNY's Graduate School of Journalism. He has been Chair of the ABA's and NYS Bar Association's media law committees and was the co-founder and longtime Co-chair of the American Bar Association's Forum on Communications Law annual ("Boca") conference. He is a graduate of Amherst and the Harvard Law School, and is an avid tennis player.
Moderator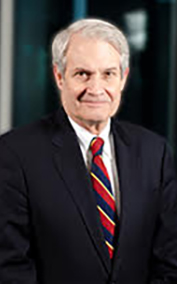 Judge Thomas B. Griffith, special counsel to Hunton Andrews Kurth LLP, recently served as a federal judge on the United States Court of Appeals for the District of Columbia Circuit.
Judge Griffith served on the DC Circuit from 2005–2020. The Washington Post has described him as "widely respected by people in both parties" and a "sober lawyer with an open mind." Judge Griffith joined the firm in 2021, focusing his practice on appellate litigation, congressional and internal investigations, and strategic counseling. Judge Griffith began his legal career in private practice before serving for four years as Senate Legal Counsel, the nonpartisan chief legal officer of the United States Senate (1995–1999). In this capacity, he represented the interests of the Senate in litigation as well as advising Senate leadership and committees on investigations. After a brief return to private practice, Judge Griffith served for five years as General Counsel of Brigham Young University, the largest religious university in the country.
As a member of the DC Circuit, Judge Griffith was the author of approximately 200 opinions on a range of matters including administrative, environmental and energy law, and congressional investigations. He was appointed by the Chief Justice of the United States to serve on the Judicial Conference's Committee on the Judicial Branch, which involves the judiciary's relationship to the Executive Branch and Congress, and the Code of Conduct Committee, which sets the ethical standards that govern the federal judiciary. Judge Griffith is a Lecturer on Law at Harvard Law School, and has held the same faculty position at the law schools at Stanford and Brigham Young Universities. He has long been active in rule of law projects in Eastern Europe, Eurasia, Asia and domestically.