March 30, 2021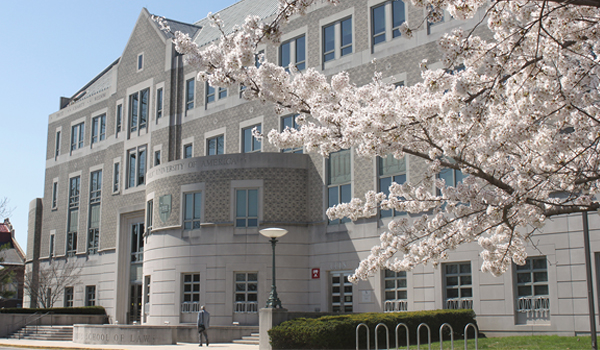 Dear Catholic Law Community,
I'm pleased to report that our school has improved nine places in the annual ranking of law schools by US News, moving from 111 to 102. Although this doesn't mean we like the ranking system any better, it's good news indeed. This is our biggest improvement in a decade -- our second-largest improvement ever -- and we are at our highest ranking of the past eight ranking cycles.
Let's never forget, however, that what is more important than the rankings is that we continue to provide our students with a great legal education at an affordable price, help them explore and understand themselves in the role they are taking on as lawyers in our civil society and the good they are called to do, and maintain for them a life-long platform for success in their careers, helping them pass the bar, find great jobs, and connect in meaningful ways with our wonderfully supportive community of alums and the larger professional society.
We drove our improvement in the rankings through a number of factors. Under the leadership of Assistant Dean Shani Butts, we held the line last year on our work to improve our selectivity in admissions (acceptance rate, median LSAT, median GPA) in the face of a challenging enrollment environment during the pandemic. I'm grateful that our Law School and University were in the financial position to allow us to do that. Under the leadership of Assistant Dean Tonya Gaskins, we also made great gains in our job placement metrics, significantly improving our numbers of graduates employed in high-quality jobs both at graduation and at 10 months after graduation.
We strengthened our reputation among deans and faculty at other law schools, and among judges and practitioners, moving both of those ratings scores up slightly. Those numbers are weighted heavily but difficult to move; it's a long-term project in which we're engaged through the renewal of faculty hiring; support for faculty research, publication, and peer engagement with faculty at other schools; and new programs meant to engage judges and practitioners, both for the good of the profession and so they can get to know us. Last year I appointed Prof. Cara Drinan as our first Director of Faculty Research, and Prof. A.G. Harmon as our first Director of Bench & Bar Programs. Their terrific work in these areas is just beginning to have an impact. And all of the great work our faculty, students, and staff are doing can be known outside our law school only through our much-expanded marketing efforts, led by Director Joe Ferraro.
The best advertisements for our school, of course, are our terrific students and alums and the impression they make on the legal community. We're proud of your achievements and your professionalism, which benefit all of us in innumerable ways, in the reputational rankings and far beyond.
We also fared well in new metrics related to library services, which were added to the rankings calculation this year, thanks to our law librarian Prof. Beth Edinger and her wonderful staff. And we continue to reap the rewards of the investment former Dean Dan Attridge made in improving our bar passage rates, under the leadership of Prof. Marin Scordato, Associate Dean of Academic Affairs, and the tremendous work of the faculty (the entire faculty) and staff who have implemented the plan, including Katie Crowley, our Assistant Dean for Student Affairs and Dean of Students, Stuart Schept, our Assistant Dean for Academic Affairs and Registrar, and Bryan McDermott, our Director for Academic Affairs in charge of our bar programs.
All of our dedicated faculty, staff, students, and alums have played important roles in setting us on the right course. I can't thank you all individually in this message but am incredibly grateful for your contributions.
Finally, I unfortunately have to sound a note of caution as well. There are many ties in the rankings -- for example, the schools ranked just below us are in slot 109 because of ties -- and that means the rankings can be volatile year-to-year. The slightest slip in even a single metric relative to other schools can cause a school's ranking to drop significantly. Some very good schools saw their rankings drop by double digits this year. Add to that sensitivity the uncertain environment the pandemic has created -- especially with respect to those metrics dependent upon now-strained budgets, such as student-to-faculty ratio, expenditures per student, and library resources -- and it may be difficult in the next rankings cycle to continue to rise or even to consolidate this gain. Nonetheless, applications to law school (and their quality) are up dramatically across the nation, including at our school, and that is a good sign for the entire industry.
We are not defined by our ranking, but we will of course do our best to continue to improve it. We believe our strategy is sound and are grateful to you for your support of our unique and wonderful law school.
May God grant you health and peace in these challenging times.
All the best,
Steve
Stephen C. Payne
Dean, Columbus School of Law
Knights of Columbus Professor of Law
The Catholic University of America