April 29, 2016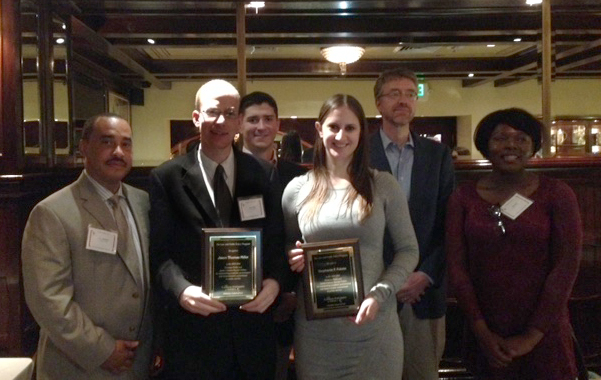 On Sunday, April 24th, the 2016 CUA Law and Public Policy Program Certificate Candidates and The Eleanore Dulin and James Clanton Haynes Memorial Fellows were honored at an annual brunch designed to congratulate students on their achievements.
Professor Roger Colinvaux, director of the Law and Public Policy Program; introduced the eight 2016 Law and Public Policy Program Certificate Candidates:
Beth Ann Barefoot attended the University of Oklahoma earning her B.A. in Women's Studies. Since leaving her undergraduate career, Beth has worked in numerous political arenas including a Congressional campaign, the House of Representatives, 6 years at the Democratic Congressional Campaign Committee and 2 years as Administrative Director to US Senator Mazie K. Hirono. She is currently employed with BlueLabs Analytics, a progressive, DC-based data and analytics firm. Beth's practicum project sought to pass human trafficking vacatur legislation within the District of Columbia. This law would make available a remedy to survivors of sex trafficking by allowing them to remove prostitution related charges or convictions earned due to their enslavement.

In 2013, Megan Chester graduated from Northeastern University, in Boston, Massachusetts. There, Megan explored her interest in international affairs through Northeastern's co-operative education and study abroad programs. She studied in Central Europe, at the United Nations in Geneva, and at the London School of Economics. Megan furthered her passions while spending several semesters working at The Geneva Center for Security Policy; The House of Lords, British Parliament; and the Department of Justice, International Prisoner Transfer Unit (DoJ IPTU), which ultimately led her to Washington, D.C., for law school. At CUA, Megan's enthusiasm for service grew with legal internships at the Newseum Institute, the First Amendment Center, and the Department of Defense Office of Inspector General, Office of General Counsel. Meanwhile, she continued to work at the DoJ IPTU, pro bono. These experiences led Megan to her LPP project on improving the efficiency and effectiveness of overseas contingency operation oversight and her creation of a veteran's assistance pro bono opportunity for CUA Law, in which students will assist veterans with their applications for benefits beginning this June.
Stephanie Fekete graduated from the University of Portland with a Bachelor of Business Administration in 2013, where she majored in Marketing and Sustainability and minored in Music. For the Law and Public Policy Program, Stephanie completed legal internships at the U.S. Small Business Administration and the U.S. Office of Personnel Management. She also worked as a certified student attorney in the Columbus Community Legal Services' Civil Practice Clinic. Stephanie's LPP project focused on organ donation and procurement in Maryland. She proposed two policies to combat the problem of long waiting lists for those in need of an organ transplant. She found that organ donor registration would increase if drivers' education programs and the public school curriculum taught students about organ donor programs. She also proposed a tax incentive for employers to provide paid leave for employees that donate organs. Stephanie hopes to pursue a career in health law and policy for the federal government.


Caleb L. (C.L.) Hamilton graduated from The United States Air Force Academy in 1984. Following graduation, he served on active duty for seven years as an Air Force Officer and Pilot. Following his military service, C.L. joined United Airlines in 1991 as a commercial airline Pilot. He left United in 2012 with over 13,000 total flight hours in various military and civilian aircraft. While working on housing conditions cases in the Civil Practice Clinic at CUA, C.L. became interested in the preservation and creation of affordable housing in the District. C.L.'s LPP project related to the District's Tenant Opportunity to Purchase Act (TOPA), a statute that protects tenants from a forced move. C.L. proposed that TOPA be amended to change the process by which buildings are appraised, so as to enhance tenants' ability to purchase rental units. C.L. would like to thank his lovely wife of thirty years, Betti, for making it possible for him to attend and complete law school. He would also like to thank their daughters, Tess and Sinclaire, for their continued support.

Wilfredo Maldonado graduated from the Interamerican University of Puerto Rico in 2013. During this time, he worked as Special Assistant to the President of the Senate of Puerto Rico. While in Law School, Wilfredo interned at the Air Force JAG Corps, the Department of Homeland Security, and ultimately the FBI. Wilfredo's interest in national security started and grew, with these experiences. Wilfredo's LPP project started as an attempt to provide the U.S. Government with more tools to combat the use of Social Media by terrorist groups. Ultimately, the project evolved to legislation that would eliminate the safe haven that encryption provides for terrorist actors. The goal of the legislation is to prohibit U.S. companies from using total end-to-end encryption that would inhibit law enforcement from looking at the contents of terrorists' communications obtained by search warrant based on probable cause. It would also require U.S. companies to provide access to law enforcement of terrorist communications in their control.


Jason Thomas Miller, a native of Michigan graduated from Andrews University in 2012 with a B.S. in Political Science and Behavioral Neuroscience. Upon the completion of his studies, Jason served as a Capitol Hill intern for his local Congressman Fred Upton. Jason then took a year off to serve as a student missionary teacher in Honduras where he taught elementary and secondary students. After returning to the United States, Jason began his 1L year at CUA where he got involved with the Republican National Lawyer's Association and Federalist Society. This involvement led him to volunteering in Virginia and Maryland elections. Back in his home state of Michigan, Jason also serves in an elected capacity as a precinct delegate in the Michigan Republican Party. Jason's LPP project was to find a solution in his home state of Michigan that would protect both people of faith and LGBT individuals after the Supreme Court's Obergefell decision. Jason considered two proposed solutions: a State Religious Freedom Restoration Act (broad) and Categorical protection (narrow). Looking at other jurisdictions, Jason concluded that the most politically successful were categorical protections modeled after a compromise made in Utah. During his LPP Project, Jason interned at the Civil Rights Research Center where he worked on protecting the religious freedom of all people.


Rita Sono graduated from the University of Virginia in Charlottesville, Virginia in 2012. Rita developed an interest in reforming America's education system as an undergraduate, and wanted to learn how to change the law and policies that shaped the system. Rita began her law school career in the Evening Division of Catholic University's law school, and joined LPP. Rita gained valuable skills in child advocacy by interning for the Columbus Community Legal Service, Neighborhood Legal Services and D.C.'s Office of Administrative Hearing. At those organizations, Rita learned about many factors that impact a child's education, including, problems with custody and housing, inconsistent application of disciplinary laws, neglect, and child abuse. Rita also engaged with the D.C. Public School system by participating in Street Law, Jumpstart, and Reading Partners. Rita's LPP project focused on reducing the education gap by encouraging implementation of a year-round school program in D.C., with incentives that reward parent involvement in their children's education. Rita is currently a Pathway Intern for the Air Force with a focus on employment law. Rita has accepted employment with the Air Force after graduation.


R. Chase Stelzer graduated from Allegheny College in 2012. Immediately after graduation he started working for the Congressman from his home district and started night school at CUA. Starting as a Staff Assistant and leaving the Hill as a Senior Legislative Assistant, Chase had the opportunity to learn and take part in the legislative process. As an LPP student, Chase completed two prosecution internships, and continued to work on draft legislation for introduction in the House of Representatives. Chase's LPP project focused on changing perceptions of law enforcement of victims of sex trafficking. Chase proposed changing statutory language in appropriations and other legislation that would refer to victims as victims instead of as persons associated with criminal activity. Chase worked with Congressional committees to have his suggested language approved, and it is currently pending before the Appropriations committee. A draft bill he also presented to a committee member's office is under consideration. Upon graduation, Chase will be clerking for Judge Wallace Bateman of Bucks County, Pennsylvania.

In addition, Stephanie P. Fekete and Jason Thomas Miller were presented with Dulin Haynes Fellowships, established in 1985 in memory of Eleanore Dulin and her husband, the Honorable James Clanton Haynes, an alumnus of the Columbus School of Law, who served as an administrative law judge in the United States government. The Dulin Haynes Memorial Fellowship is awarded each year to one or more students in the Law and Public Policy Program who are in their last year of law school. The award is based on demonstrated commitment to a career in public service; academic and professional achievement during law school; and service to the community, the law school, and the Law and Public Policy Program.