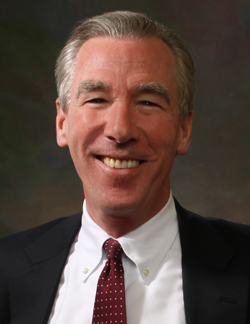 To the Students of the Columbus School of Law:
You have chosen an honorable vocation and the best law school in America to prepare you for it. The law regulates our daily affairs. In a complex world it organizes the relations of people, companies, and nations. The wise legal counselor knows that the rule of law is not a settled and certain thing, nor is it the same as the will of the sovereign. There are better and worse ways of arranging human affairs. Psalm 146 warns our profession to "[p]ut no trust in princes. It is the Lord," the psalmist says, "who secures justice for the oppressed, gives food to the hungry [and] sets prisoners free; the Lord . . . raises up those who are bowed down; [he] loves the righteous.
The Lord protects the stranger, sustains the orphan and the widow, but thwarts the way of the wicked."
We need to keep this thought in mind when we study the law of Social Security and habeas corpus; when we make agricultural and environmental policy; and when we write immigration laws and design financial reform. At The Catholic University of America we ask our students — in law no less than in science, literature, art, and history — to learn what all capable practitioners know, and then to ask what is right and good. We aim to graduate not just good lawyers, but lawyers who lead good lives.
You will find here an exceptional faculty and staff committed to your success in these undertakings. They will provide you with generous, personal, and attentive service. And you will on graduation join an extraordinary community of alumni and alumnae who have walked Catholic University's path before you, advancing to great legal careers in virtually every field of endeavor.
Welcome to The Catholic University of America Columbus School of Law.
Sincerely,

John Garvey President
The Catholic University of America