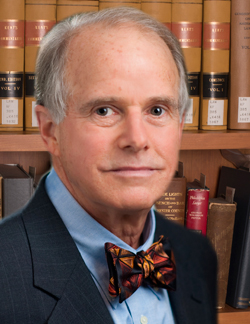 School
Columbus School of Law
Expertise
Securities Regulation
Broker Dealer Regulation
Market Regulation
Corporate Governance
(On leave)
Professor Lipton teaches securities regulation, corporate finance, and corporations. He also is the director of the Law School's Securities Law Program.

Professor Lipton received his B.A. degree from Cornell University and an M.A. in public law and government from Columbia University. Before going on to Michigan University law school, where he received his J.D., he worked as a public relations specialist for New York City's anti-poverty program. At law school, he was admitted onto the Michigan Law Review. Upon graduation, he went to work with the New York firm of Debevoise & Plimpton where he practiced securities and corporate law. While at Debevoise, Professor Lipton served as a pro bono litigator for the Community Law Offices of East Harlem.
After practicing in New York, Professor Lipton began his teaching career at Case Western Reserve University School of Law where he taught corporations, contracts and agency law. He was accepted as a visiting Attorney Fellow at the Securities and Exchange Commission where he served in the Division of Market Regulation. He has been on the faculty of the law school since 1980. In that time, he has increased the school's securities offerings from one to ten courses. In addition, he has created numerous internships with regulatory agencies, private firms and associations.
Professor Lipton created the Law School's Securities Program which offers a certificate in Securities Regulation. He was also instrumental in forming and maintaining the school's active Securities Alumni Practice Group as well as the Student Securities Law Association and the Securities Regulation Moot Court Competition. 
Professor Lipton is frequently quoted in newspapers, radio and television in matters relating to securities market regulation, broker-dealer regulation, securities arbitration, insider trading, duties of corporate directors and the impact of technology on securities regulation.
For approximately 25 years, he has chaired arbitration panels for FINRA. He frequently conducts programs at the law school and with the D.C. Bar on matters relating to securities, market regulation, corporate governance, arbitration and securities trading. He also organized a number of symposia to encourage the recruitment of minorities in the securities industry. These programs became models for later efforts by the SEC.
Professor Lipton has lectured and taught courses at Georgetown University Law Center, George Washington Law School, the SEC, The Beijing National College of Judges, the University of Bologna, Jagiellonian University, the Economic Academy of Krakow, the University of Bialystok, Wroclow University, the University of Torun, and the University of Lisbon. He regularly taught a training program on Broker-Dealer Supervision for the NASD/Wharton School's Institute for Professional Development. For the past several years, Professor Lipton has devoted his scholarly activities to his twice annually updated Treatise on Broker-Dealer Regulation. This treatise is considered the standard reference guide in the securities legal community.
He has been elected to serve as chair, vice chair and member of the Steering Committee of the D.C. Bar's Section on Corporations, Finance and Securities. He has chaired and served as a member of the National Association of Securities Dealer's (now FINRA's) National Arbitration Committee. Professor Lipton has served two separate terms on the FINRA's National Market Regulation Committee, in addition to a three year term on its National Adjudicatory Committee. He had served as a director of the Municipal Securities Rulemaking Board where he chaired the Audit Committee.
 
Professor Lipton served as a member of the Board of Advisors to the SEC Historical Society. He subsequently became a Board of Trustees member and a Vice President of the Museum.
At CUA, Professor Lipton has administered for more nearly two decades a monthly faculty seminar program on matters of interest to the academic profession. In addition, he has conducted a law and film program at the school as well as at the Kennedy Center. He maintains an avid interest in sculling, biking, rollerblading and skiing.



Research and Writing
BOOKS
Broker-Dealer Regulation: Twice Annual Supplements 1988-2015. New York: West Group.

A Student's Guide to Accounting for Lawyers. Third edition. New York: Matthew Bender, 1998 (with Daniel Lipsky). (Prior editions, 1985 and 1994).

BOOK CHAPTERS

"Regulation of International Trade and Business." in Treatise on Polish Law. Warsaw, Poland: Dom Wydawniczy ABC, 1998.
 
ARTICLES
"We're No Brokers: Financial Sites, Like Investors, Need SEC Help Online", Legal Times, August 6, 2001, pp. 43-45

"Enter With Caution: in Protecting Online Investor, Regulators Should Not Overburden Brokers,"Legal Times, June 28, 1999, pp. 18-19


"Risky Business: D.C. News Headlines and Internet Stock Trading" in Contact, Summer 1999

"Disclosure and Corporate Morality: Beginning a Dialogue." in 48 Catholic University Law Review 1, 1998.

"Securities Regulation and the Broker Dealer Online: Still Stuck in the Postal Age," in Legal Times, October, 1999, pp. 28-30.

"Mandatory Arbitration: Where It Has Gone and Where It Has To Go." NIDR Forum 28 (1995): 28.

"Should Arbitrators Follow the Law?" Securities Arbitration Commentator 5 (March 1993): 2.

"Generating Precedent in Securities Industry Arbitration." Securities Regulation Law Journal 19 (Spring 1991): 26.

"Mandatory Securities Industry Arbitration: The Problems and the Solution." Maryland Law Review 48 (Fall 1989): 881.

"Discovery Procedures and the Selection and Training of Arbitrators: A Study of Securities Industry Practices." American Business Law Journal 26 (Fall 1988): 435.

"The Standard on Which Arbitrators Base Their Decisions: The SRO's Must Decide." Securities Regulation Law Journal 16 (Spring 1988): 3.

"A Primer on Broker-Dealer Regulation." Catholic University Law Review 37 (June 1987): 899.

"Arbitrators' Decisions: Upon What Are They Based?" American Bar Association, Section of Litigation (1987): 270.

"Significant 1986 Regulatory and Legislative Developments." Business Lawyer 42 (May 1987): 857.

"Significant 1985 Regulation and Legislative Developments." Business Lawyer 41 (May 1986): 944.

"Governance of Our Securities Markets and the Failure to Allocate Regulatory Responsibility." Securities Law Review 18 (Annual 1986): 509.

"Governance of Our Securities Markets and the Failure to Allocate Regulatory Responsibility." Catholic University Law Review 34 (Winter 1985): 397.

"Arbitration in the Securities Industry: Too Much of a Good Thing?" Missouri Journal of Dispute Resolution 1985 (Annual 1985): 153.

"The SEC or The Exchanges: Who Should Do What and When? A Proposal to Allocate Regulatory Responsibilities for Securities Markets." U.C. Davis Law Review 16 (Spring 1983): 527.

"Best Execution: The National Market System's Missing Ingredient." Notre Dame Lawyer 57 (February 1982): 449.

"The Special Study of the Options Market: Its Findings and Recommendations." Securities Regulation Law Journal 7 (Winter 1980): 299.